Go Beyond The Deck with Skyy Knox: Breaking Stereotypes and a Mission to Empower Sex Workers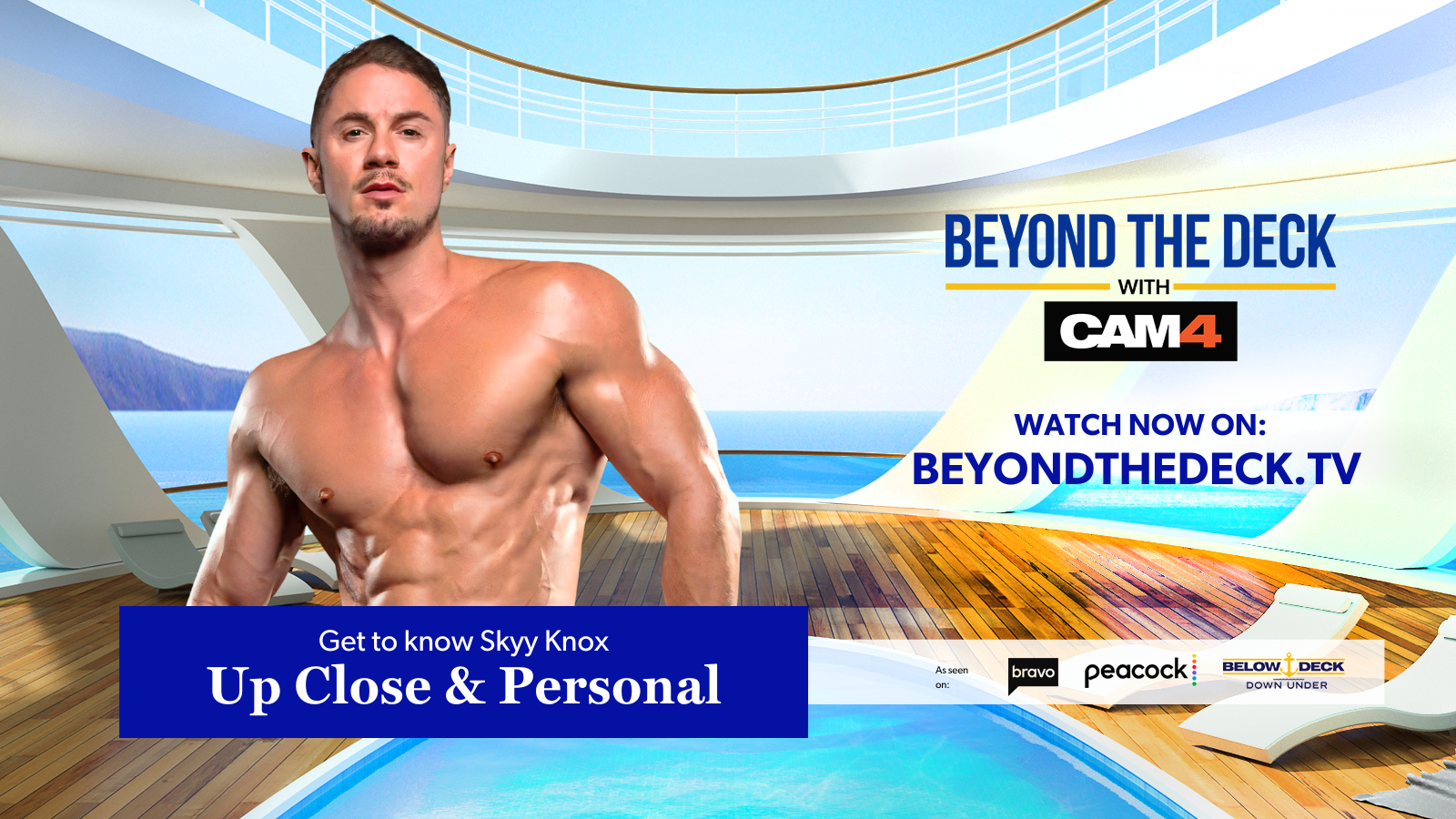 Skyy Knox is a name that has rapidly risen to fame in the world of adult entertainment, thanks to his captivating performances on CAM4.  Skyy's journey to stardom didn't stop there; it catapulted him into many opportunities and appearing as a guest on the hit Bravo TV show, Below Deck: Down Under. In this exclusive interview with CAM4, Skyy takes us through his exhilarating experiences and the profound impact they have had on his life and career.
Be sure to catch Skyy Knox and other creators for our Below Deck: Down Under Live Viewing Party and Behind The Scenes Live Event:
Viewing Party Extravaganza!- LIVE EVENT
August 21st at 7:30pm ET – 10:30pm ET
Witness these sensational creators as they buckle up for their first-ever viewing of Below Deck: Down Under. Jaw-dropping real reactions, unfiltered commentary, and nail-biting drama.
Behind The Scenes Unveiled!- LIVE EVENT
August 25th at 7:30pm ET- 9:30pm ET
Ever wondered what goes on behind the glitzy scenes of Below Deck: Down Under? Our creators are spilling the tea, giving you an exclusive, up-close-and-personal glimpse. Discover inside secrets and juicy details from Episode 8: Great Sexpectations (s02e08) and Episode 9: Angel Nude Cake (s02e09) of Season 2, Below Deck: Down Under.
An Adventurous Spirit Takes Flight
Skyy Knox's life has been defined by adventure, and one of his most daring feats was working on cruise ships, allowing him to travel the world while being paid for it. The opportunity to explore breathtaking locations like Italy and Iceland left an indelible mark on him, making the experience truly priceless.
Solo Travels and Memorable Connections
When it comes to travel, Skyy often ventures solo due to the nature of his work. However, he cherishes the moments when he can share a trip with a companion, forming unforgettable connections with fascinating people along the way.
New York: Always Exceeding Expectations
Skyy fondly recalls New York as a place that consistently exceeds his expectations. The vibrant energy, the endless possibilities, and the vibrant nightlife keep drawing him back, making it one of his favorite destinations.
The Below Deck Adventure Begins
Skyy's association with Below Deck: Down Under came at a pivotal moment in his journey. He was thrilled to meet other CAM4 creators in person and party on a luxury yacht within Australia.  An irresistible invitation he couldn't pass up.
The Yacht Experience: Glamour and Camaraderie
Once on board the luxurious yacht, Skyy's experience was nothing short of unbelievable. The sheer size of the vessel, coupled with the hidden nooks and crannies, made it feel like a majestic floating palace. The cheerful staff and the bonds formed with his co-stars created an atmosphere that felt like family.
The CAM4 Revelation
Skyy's venture into CAM4 was initially an unexpected turn, but he quickly fell in love with the platform and its vibrant community. Starting with Happy Hour alongside co-host Laura Desiree', Skyy found the magic of CAM4 through energetic performances, genuine connections, and the thrill of the tokens flowing during the most unforgettable shows.
Navigating Challenges and Embracing Change
Being a creator on CAM4 comes with its share of challenges, but Skyy's determination to deliver top-notch solo performances shines through. While duo shows present their own difficulties, he cherishes the freedom and flexibility that CAM4 provides, allowing him to adapt to any situation.
Representing Sex Workers: A True Gentleman's Approach
Skyy's appearance on Below Deck was not just about personal fame; it was an opportunity to challenge stereotypes and change perceptions about sex work. He firmly believes that sex work is legitimate work and aims to showcase the authentic and diverse sides of the sex worker community.
Skyy Knox's rise to stardom has been nothing short of phenomenal. From his captivating performances on CAM4 to his thrilling adventure on Below Deck: Down Under, Skyy continues to leave an indelible mark on the worlds of adult entertainment and reality television. With his unyielding determination, he is set to make an even greater impact as he blazes new trails in the industry he loves. Keep an eye on this incredible star, as he is just getting started on this wild journey.
Connect With Skyy Knox:
CAM4 Profile: @skyyknox
Tempted Profile: @skyyskyy
Twitter: @KnoxSkyy
Instagram: @skyyknox