CAM4's Newest Influencer COLE CONNOR, Making Real Connections in Real Time!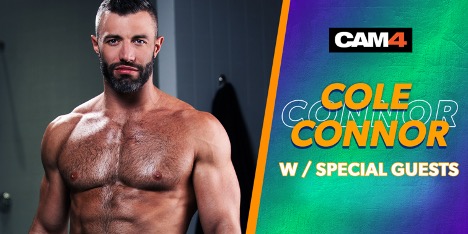 Cole Connor joins CAM4 as their newest Influencer for weekly live sex shows.  A Kentucky native and all-American Daddy, Cole burst onto the scene in 2020 and has quickly become a fan favorite after becoming a Falcon/Naked Sword Exclusive.  Having appeared in over 12 studio scenes and climbing, Cole will now be appearing live on CAM4 starting September 13th.  He will be performing 2-hour live shows not to be missed every Monday, Wednesday, and Thursday at 7pm PT / 10pm ET.  Watch on his official CAM4 page… HERE.
As a self-described "open book without any secrets" Cole is one of the most passionate and friendly stars to come onto the scene.  Having been raised Jewish within Lexington, KY, Cole's fanbase has grown quickly and may be considered one of the most prominent stars to come out of the global pandemic.
"I am very much looking forward to having a platform like CAM4 where I can connect with people and interact in real time." says Cole.  "I like the idea of having my sexy, talented content creator friends join me live each week and get them introduced to the CAM4 audience. I think we will have a lot of fun during the shows, with a ton of sexy stuff to see"
Cole has been grinding hard making content that his fans will continuously enjoy.   "I have worked my ass and dick off building great content" He is committed to not only having fun during the making of the content but also wants his fans to also have fun watching.
CAM4 recently sat down with this hunk of a man to learn more about what it was like shooting his very first scene, what it's like to have sex on camera, his future in directing, and his experience coming out as Gay.   This juicy interview is a must read and give's Cole the opportunity to share a piece of his incredible journey. and give him the opportunity to share a piece of his enchanting story.
Can you please tell us a little about where you grew up, your experience as a young adult, and how you got into the industry?
I grew up in Lexington, KY. I was a late bloomer. Being raised Jewish, I had a Bar Mitzvah and went to Jewish summer camp every year, which I loved. After college, I moved to Los Angeles, and I've been there ever since. After a few years of working in bars and restaurants, I started personal training. For over 10 years, I trained clients under my own fitness business and that taught me a lot about work ethic and responsibility, not to mention how to get along with people and provide a high-end service. When Covid-19 came about in early 2020, I stopped working in gyms with my clients. All my business went online. That worked for me for a while, but I wanted something else. I was bored and had been bored for a good 2-3 years already. I had several friends who were creating content on Onlyfans and other fan sites. In October 2020, I decided I was going to jump into the deep end and go for it. I started collaborating with friends and meeting other creators in LA and filming with them. My audience grew quickly because I was working my ass and dick off!! But I was having so much fun making content, making friends, and making money, I didn't care that I was working all the time! I still aim to put out premium content 4-5 times per week on my Fan sites.
Can you please tell us why it was important for you to partner with CAM4 and become part of this community?  What do you like about CAM4?
I didn't realize that CAM4.com had been around for so long! I am very much looking forward to having a platform where I can connect with people and interact in real time. Also, I like the idea of having my sexy, talented content creator friends as guests to introduce to my audience. I think we will have a lot of fun during the shows with a ton of sexy stuff, but also things to show our personalities and let fans get to know us on a more personal level.
When you shot your very first scene, can you please tell us about that experience, were you excited, nervous, and what did you love most about it?  Did you learn any lessons?
About 2 weeks into starting to make content for fan sites, Tony Dimarco (director for Raging Stallion), reached out to me and asked me to be in his film that was shooting later in the year. I was extremely flattered that I had gotten the attention of a studio I had been a fan of for years and I was happy to accept the job! On the way to the shoot, I was excited, nervous, and a little scared of fucking it all up. Luckily, I had been messaging with my scene partners, Chad Hammer and Killian Knox. Both are really sweet, fun, sexy guys and the three of us immediately hit it off. With Tony directing, I knew it was going to be a hot scene. I'd heard how hard shooting studio porn can be, but honestly, I had a blast! I felt like the three of us nailed the scene! I remember calling friends on the drive home the next day because I couldn't wait to tell them how great the whole experience was!
A couple weeks later, Tony called me and asked if I would want to be an Exclusive for Falcon|NakedSword. I was thrilled! Obviously, I took the offer and I'm so happy that I did! I've shot about 12 studio scenes this year so far and every time I remember that first scene and how much fun I had. I remember I'm lucky that I can do this (and get to do this!), and to always keep a positive attitude on set. Sometimes the shoots are long, and you can be a little uncomfortable (hungry, tired). Focusing on being kind and positive for my scene partners and everyone else on set keeps me in a good headspace where I can give the best performance possible.
Can you please tell us a little about your viewers and fans?  What do they like most about you and the content you create?
My fans are awesome! I love and appreciate all the support from them on a daily basis. I hear all kinds of things from different fans about what they like about my content. Some like it when I bottom, some like it when I top. Most people like all the group content I make with my other creator friends. I can't really get caught up in what people want to see versus what I want to actually do. I try to focus on just making content that I would want to watch myself. I've always watched a lot of porn, but my go to scenes are threesomes/groups (both gay and straight). Quality is very important to me. That's why I use a cameraman and editor for most of my videos. I want it to look like premium content. I can do a better job when I'm not worried about what position I need to be in for a stationary camera to get the best shot. I'm not really into holding a camera either while I'm trying to fuck. Hooray for everyone who can do that well, but it is just not something I like doing (when making or viewing content). The goal is to remain true to myself in the content I create and what I find hot and enjoyable. I'm not going to do things on camera that I'm not into just to gain a few subscribers because that would be neither fun nor enjoyable!
How does shooting scenes and having sex within your personal life differ or is it the same?  Viewers would love to know your experiences in front of the camera and behind closed doors.  
Having sex on camera has only enhanced my sex life. Yes, I film often (probably about 3 times as much as I have recreational sex), but it has only made me want/need sex more. I often plan "non-shooting days" into my week with the intention to give myself a break from sex. But then the sun goes down, and I haven't cum yet and I start to crave that sexual contact with someone. When I am having recreational sex, I find myself doing performative things I've learned or picked up along the way from filming. I don't really think of it as performing, however. It's just how I have sex now and what I like doing for the other person/people I'm having sex with!
What one fantasy you still have not explored and why does this turn you on so much?
I still have not done a bi orgy. I think it would be hot. The mix of people just being sexually open and free with each other really turns me on. I've had a lot more gay sex than I have straight sex, but I would like to explore more of the bi element of my sexuality.
What advice would you give to other guys who wish to follow in your footsteps?  What mistakes would you tell them to avoid?
I noticed early on that people like to try to influence your perspectives on other people within this industry. You have to take people's opinions about people with a grain of salt. When someone has something negative to say about another performer, it could just be because of jealousy or hurt feelings. For that reason, I make a point not to a) share my opinions about other performers unless it's positive and b) not listen to negativity about other performers and leave my mind open for me to make my own decision about them.
Is there a particular goal you have within the adult entertainment industry? 
I've gotten to put together a few groups for content making and take on the director role for them. I really enjoyed wearing that hat and I know that's something I will be interested in doing in the future. I think I have a good eye for what works in porn and what doesn't, simply because I have watched so much! I am surprised at how many performers don't even really watch porn, or don't watch studio porn at all. I appreciate the work that goes into making studio porn and how good it can look. To be the one calling all the shots for good porn to happen is definitely right up my alley.
Tell us something about you not many fans or viewers would know about you.
I'm an open book. I don't have any secrets.
Many guys today struggle with self-confidence, acceptance, and the fear of being judged.  Is this something you struggled with and if so, how did you overcome this?   You seem extremely confident and have such an exciting attitude.
I struggled with coming out. Not that anyone was particularly surprised whenever I told them I was gay, but I had a hard time accepting it for myself and it not being something I could "fix" or a personal obstacle I could overcome. I think a lot of gay people have felt that way, or at least more commonly with people my age and older. I had an idea of what I wanted to be, and I didn't know how being gay fit into that life I wanted for myself. What I couldn't see then is that being gay (and the inherent struggles that come with it) helps to shape who we are for the better if we embrace it. That plays a big part in self-confidence because when you are forced to accept yourself for everything you are or aren't, it's difficult to give any fucks about what anyone else thinks of you! I wish I learned that earlier!
What other things would you want viewers to know, do you have exciting news to share, or what would you want to say to new fans wanting to connect with you.
I am grinding HARD at making content! Fans should look out for upcoming scenes from Raging Stallion, Falcon, and Hot House! I worked with Max Konnor, Adrian Hart, Roman Todd, Beau Butler, Reign, Isaac X, Jake Nicola, Ian Holms, Austin Avery, and Lucca Mazzi! Some great collaborations are coming to all my platforms! Make sure you follow me on Twitter @coleconnorxx for announcements and updates on what I'm doing!
COLE'S SHOW SCHEDULE:

Weekly shows every Monday, Wednesday, and Thursday
CONNECT WITH COLE CONNOR:
Official CAM4 Channel: cam4.com/coleconnorxx
Instagram: @captaincoleconnor
Twitter: @coleconnorxx
Onlyfans: @coleconnorxx
JustForFans: @coleconnorxx
4my.fans: @coleconnorxx