Think You Know Gay Porn Star Rocco Steele?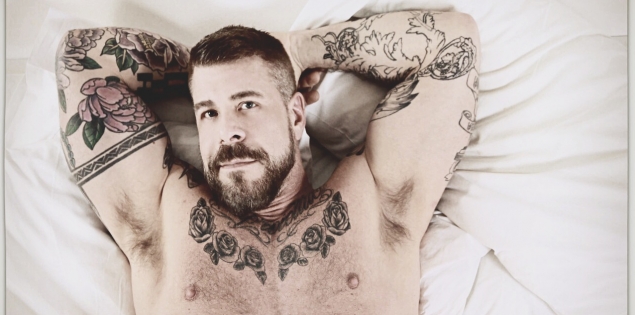 I sit down with Rocco Steele, the rough, rugged, and real inked hung top daddy and adult film performer. He was Mr. New York in 2015 and Manhunt Daily voted him Best Cock in 2014. You have seen the man in gay porn but lets dive into his mind and see what he thinks about tattoos, sobriety, his porn career, and more.
Why would you leave the stability of the corporate world for the unstable porn world?
I actually think my life was more uncertain when I was part of the corporate world. There, I could do all of the right things. I could play all of the games and be a part of all of the politics and I still had no guarantees of longevity and/or happiness at any given company. I was fired for one job after getting consistent high praise from the president of one company I worked for – simply because my immediate supervisor didn't like me so she found a way to get me fired. My life right now feels more secure than ever. Sure there are no guarantees from one job to the next and no guarantee as to how long this will last. But this is the first place where I can show up, do my job very well, and ultimately get rewarded for it. It seems very merit-based to me…and very black and white.
Being sober plays a big part in your life, how do you now escape from life's stresses since you can not go to drugs or liquor as an aid to help you escape?
Since I got sober over 16 years ago, I was fortunate to be a part of a recovery group that gave me tools to build a new life and taught me ways to cope with the stresses of everyday life. I don't want to escape anymore and I think that's the gift of recovery. It teaches me to be present with every situation, no matter how difficult or uncomfortable it might be. Getting myself to the other side of any stressful situation by being sober and thus present means that I grow a little/become stronger and have a new point of reference for the next time.
Finish this sentence "I am blessed because"?
I am alive and healthy and surrounded by love.
I have read that you have taken time to work on you as a person, what has been the most challenging thing you have had to work on? 
Believe it or not it's my lack of self-esteem. Over the years, it has been paralyzing at times. I have spent so many years in recovery and in therapy working on this. I know it's probably not the sexiest thing to hear that Rocco Steele has self-esteem issues…but I think that's part of what makes me real. Because I've done so much work around this, I am definitely in a better place than I was 5 or 10 years ago…or even a month ago and I also now know how to "talk myself down from the cliff" when I'm having one of my moments.
What does photography mean to you? 
Because I'm a photographer who enjoys portraiture – for me it's the ability to capture the magic in somebody. And it's all in their eyes. There are a lot of photographers who shoot the nude or semi nude form and it can be beautiful and some of it is magical but I like to focus in the face. It's all in the eyes. When I model for a photographer, I know when they've captured that magic in my eyes…because it's the picture that moves me.
Tattoos have stories, what are the stories behind yours?
Two of my tattoos truly have a story behind them. My first ever tattoo is on my leg and I got it done when I was a wee one back in the 80s. It's a pink triangle for Act Up, an influential HIV/AIDS awareness activist group back then. It was that time and we all were scared…so a pink triangle on my leg for me – was my reminder to myself of the epidemic happening and a symbol of respect for those in my life I had lost.
Then I got a dolphin tattooed inside the pink triangle -god only knows why I have no idea to this day – and I ruined the beautiful message. My left arm is a tribute to my deceased father who was Italian. He died after a very long battle with cancer and I wanted to honor him.
Was there ever a time you thought doing porn was a wrong choice in your life?
I had doubts for sure and I mentioned before in another interview that I would talk to my therapist weekly about it. But I've never been convinced it was a wrong or bad choice. It was more of "oh this is what I'm doing – how much longer do I want to be doing this?"
A friend of mine who did porn many years ago (also sober) told me to NEVER shame myself for doing porn. Do it with my head held high and own it. And that's what I've pretty much done from the start. My own shame will take me down and there are enough challenges in this industry on a daily basis to not have to worry about my own freaking shame.
Is there a difference between the porn worlds in Europe compared to the United States?
That's tough because my experience might be different than somebody else's but for me, the only thing that is different is the excitement of the travel attached to it as well as the excitement of meeting guys from all over Europe. I know this answer sounds perfectly political and boring lol…but I love shooting in both US and Europe for different reasons individual to each.
Updates on his career, scenes he is in, or just to read about his daily life follow him on Twitter @

RoccoSteeleXXX
Let me know below what is your favorite Rocco Steele scene or what do you find sexy about this daddy?