Shibari, have you ever heard of this? Have you seen pictures of erotically tied-up women and men and wondered what this Japanese form of bondage art entails? Well, kind of in two ways, because this technique is true bondage art. We did some research for you and report on what we found out about Shibari. Keep it coming!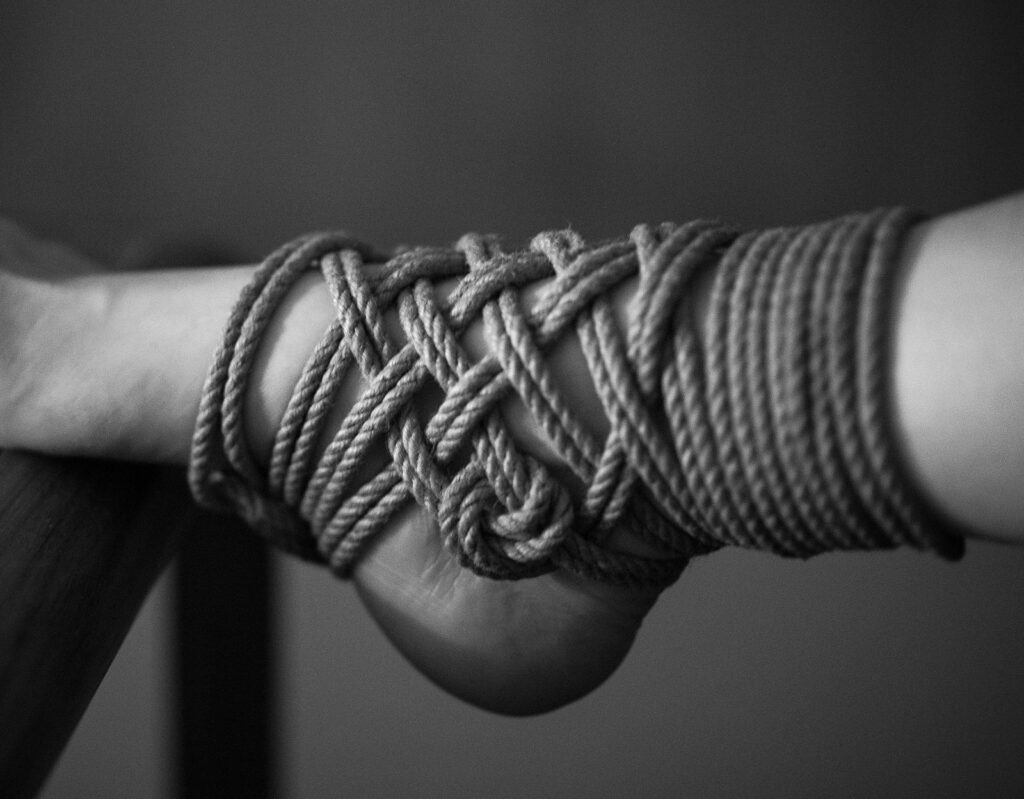 What is Shibari ?
Kinbaku also known as Shibari is about a Japanese art form that uses intricate rope bondage techniques to create visually stunning patterns and designs on the human body. The practice of Shibari dates back to the Edo period (1603-1868) in Japan, where it was mainly used as a form of torture and punishment.
In the 1950s, however, Shibari began to be practised as a consensual art form, with artists and performers using the techniques to create beautiful and erotic images. One of the most influential figures in the modern history of Shibari is the artist and performer Nureki Chimuo, who popularised the practice in Japan and around the world. These beautiful asymmetrical positions and complex patterns are quite intricate. (There is also a more Western bondage, where other simpler techniques are used, with Shibari several patterns are fixed, but with Western forms you can also adapt certain patterns to your own ability)
Today, Shibari is a popular form of BDSM and erotic performance art, with practitioners and enthusiasts in many countries. It is often used as a way to explore intimacy, trust and power dynamics between partners and is appreciated for its aesthetic and sensual qualities.
However, it is important to note that Shibari is a practice that requires a high level of skill and knowledge to perform safely, and practitioners should always put the physical and emotional health of themselves and their partners first.
What is the fascination of Shibari?
With this bondage technique, BDSM fans (BDSM: Bondage, Discipline, Dominance/ Submission, Sadism/ Masochism) get their money's worth! Of course, Japanese bondage also has its effects on different levels.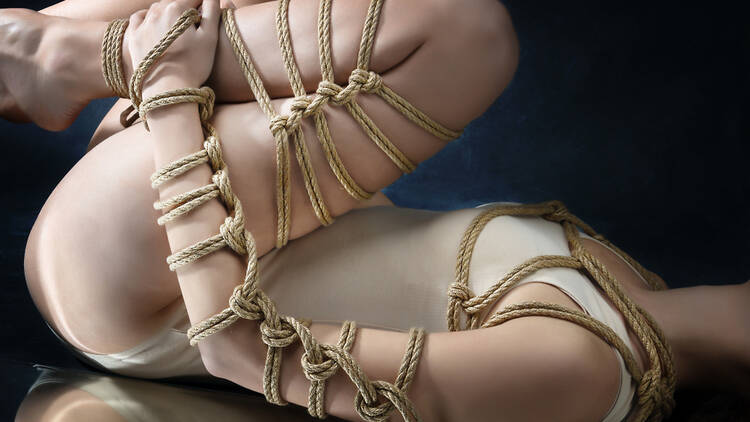 On the physical plane:
One aspect is the enjoyment of physical pain, or the pleasure of causing it. Depending on the experience, the participant to be tied up is tied into an actual artistic sculpture – on the ground or in the air. Once the passive person is tied up, he or she can surrender to the Rope Space, pain and pleasure in complete immobility.
The emotional aspect:
Being unable to move and the associated trust (condition) of the passive person in the one performing can positively strengthen the bond between the two. Here, a great sense of responsibility and absolute dedication form the basis for being able to relax and enjoy emotionally in these postures and being at the mercy of others. Emotions can be released when practising shibari, it has a great psychological impact.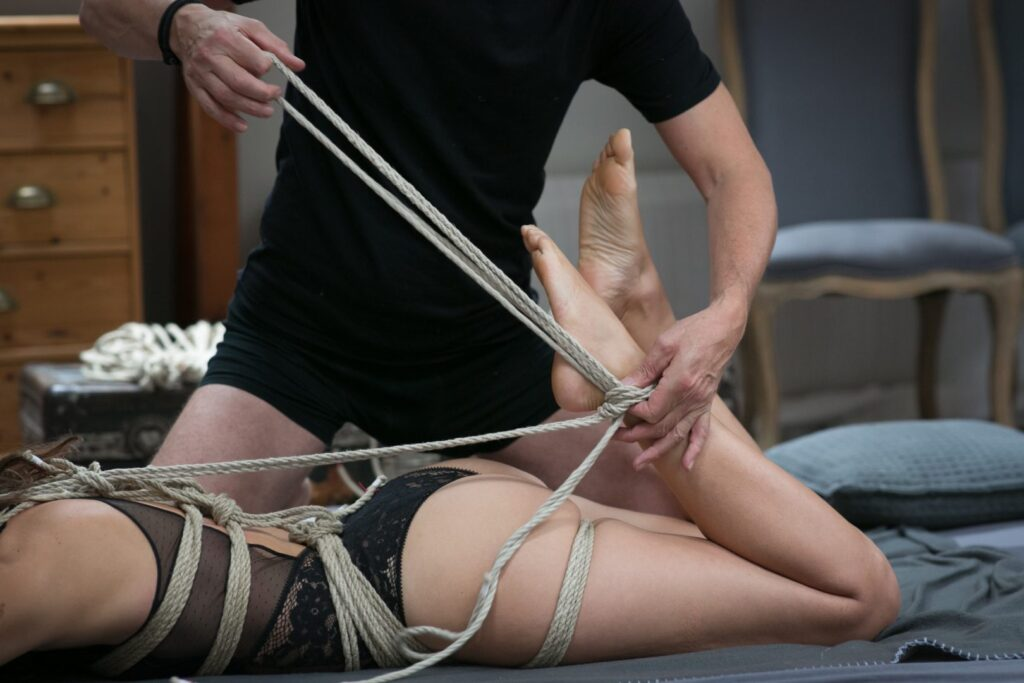 Attention!
We assume at this point that all involved agree in advance on what is possible and what is not. However, there are other things to consider: If you do it wrong, you can cut off your partner's blood supply, damage nerves and injure him or her in a serious way! If you want to explore Shibari yourself, get proper guidance in the beginning and take the tips you are given seriously. That way, in the long run, the Japanese art of bondage will be fun and won't harm you.
Of course, the cords leave temporary bruises, especially if the person being tied up hangs their weight on the proverbial ropes. In an emergency, always keep scissors handy and never leave the passive person alone in the room.
Another brief summary of the dangers
Bondage can carry risks if not practised properly. Here are some possible dangers of bondage:
Choking hazards: If ropes or other materials are applied too tightly, it can impede breathing and lead to suffocation.
Restriction of blood circulation: Too tight or improperly placed knots can restrict blood circulation and lead to numbness, tingling, and in severe cases, permanent injury.
Nerve damage: If the ropes are placed on nerve endings or too much pressure is applied to them, nerve damage can result.
Psychological trauma: Bondage can be a very intense and intimate experience, and if not practised with respect and care, it can cause psychological trauma.
It is therefore important to practice bondage only with a partner you trust and with whom you can communicate openly. Make sure you learn and practise the right techniques before you start, and always be alert to your body's and your partner's signals. It is also advisable to have safety scissors handy to cut ropes quickly and safely in case of an emergency. T
his applies to Japanese bondage technique, but obviously to any form of bondage.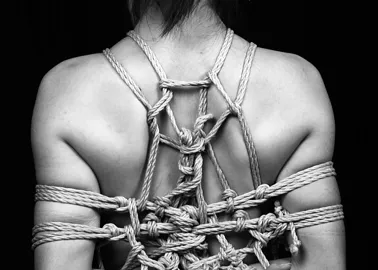 What else should I know about Japanese Bondage technique?
In BDSM, the Japanese art of bondage is also known as "Kinbaku" and offers an almost infinite number of possibilities for bondage, although beginners are best off on the floor at first. If you are interested in learning this bondage technique, look around for workshops near you.
Japanese bondage uses hemp or jute ropes to artfully bind the partner. To avoid unnecessary skin irritation, they are treated with oil beforehand. Too much is as inadvisable as too little. As you can see, you need to study shibari in detail before tying.
Erotic Bondage – our conclusion:
Definitely an exciting thing, this game of submission, power and ropes! If you want to try it out, you should do some research beforehand. Once you master it, this way of giving pleasure and enjoyment can be a real highlight for all bondage fans. We hope you enjoy learning and practising this wonderful variation of bondage play.