Most email providers now routinely employ anti-spam software. To make sure that you receive your verification email from Cam4 please select your email provider from the list below and follow the instructions provided.
---
America Online (AOL)
In your AOL Mailbox, choose the Mail Tab menu, then select "Address Book".
Choose the "Add Icon," which is located at the bottom of the pop-up window.
Fill out the "Other - Email" field with the email address from which you'd like to receive mail.
Click the "Primary Email" box
Repeat steps 2 through 4 for these email addresses:
Gmail
Click the Show search options downward-pointing triangle in your Gmail's main search field.

Type cam4.biz under From.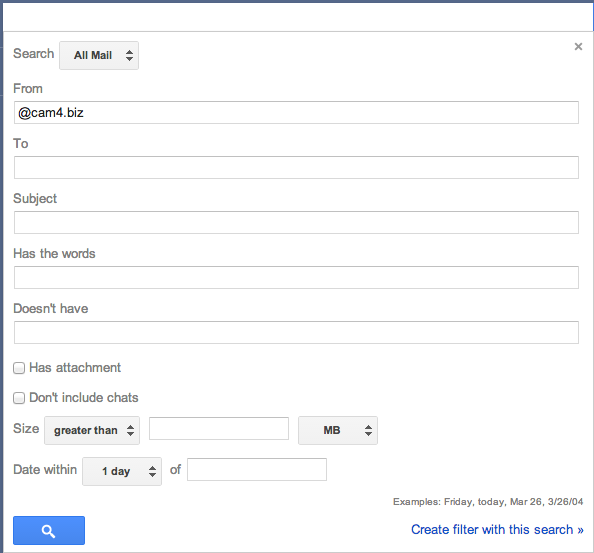 Follow theCreate filter with this search ››link at the bottom of the search sheet.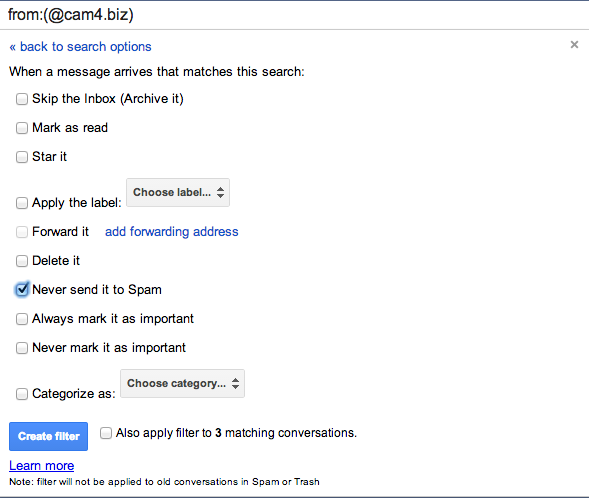 Make sure Never send it to Spam is checked.
Click Create filter.
Hotmail
Choose "Options" at the upper right of your inbox screen.
Choose more options.
Choose Safe and blocked senders.
Choose Safe senders.
Under Sender or domain to mark as safe type: "cam4.ws"
Click add to list.
Repeat steps 5 & 6 for the following address: "cam4.biz"
Microsoft Network
Choose the "Junk E-mail" link at the bottom left of your inbox.
Enter the email address from which you'd like to receive mail in the "Email" field of the pop-up window.
Click Save.
Repeat steps 2 & 3 for the following email addresses:
Microsoft Outlook
On the Tools menu, click Options.
On the Preferences tab, under E-mail, click Junk E-mail.
Click the Safe Senders or Safe Recipients tab.
Click Add.
Type "cam4.biz" in the address box.
Click the OK button.
Repeat steps 4 through 6 for "cam4.ws"
Other ISPs
Add the following addresses to any address books or safe lists with your email service provider:
Yahoo! Mail
From your Inbox, select "Add Contact" from the "Addresses" pull-down menu.
Fill out the "Email" field with the email address from which you'd like to receive mail.
Choose "Save", then "Done".
Repeat steps 2 & 3 for the following email addresses: