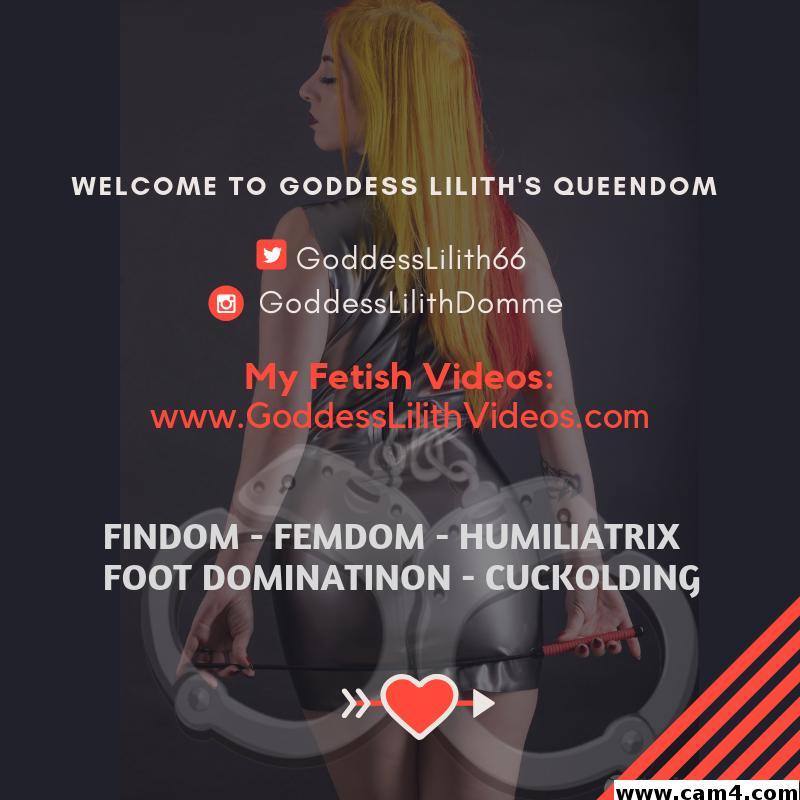 I DO NOT CAM NUDE.

If you're lucky you might see Me in pasties. If you ask you'll get BANNED.
Anyone with a dick pic GETS BANNED just for entering My room. I do not want to see your disgusting genitals.
PM: 15tks minimum to PM.
Do not ask to PM without tokens.
My name is Goddess Lilith.
I am a professional Dominatrix and a published, international Fetish model. Yes,
I am a REAL MISTRESS and PRO/LIFESTYLE DOMME
of 8+ years. I am not just a pretty face that lists kink as one of My interests and pretends to be Dominant with a a couple of toys in My hand. I am one of the few REAL American Dominatrixes you'll find on a cam site.
I am a multi award-winning, internationally known Domina, Fetish Model, Singer, Actress, Radio Personality, and Alternative Lifestyle Event Hostess, who revels in taking control over you with My voice, body, mind, and soul.
Read this interview I did with Cam4 as their Camgirl of the Month!
https://blog.cam4.com/females/camgirl-of-the-month-goddesslilit/
This is a great place to get sessions from Me if
:
1) you haven't met Me yet and want to serve in real life
2) you are a long distance slave that wants to serve Me
Do keep in mind that I am here to be served and tributed.
Do not be a wanker sitting around asking for freebies. I won't respond well to that and may kick or permanently ban you from viewing My cam.
DO NOT JERK WHILE WATCHING ME WITHOUT PERMISSION.
you will be kicked, and then banned if you continue this behavior. If you're a good boy and play by the rules, I'll be happy to play with you, but I don't play with boys who have not contributed to My Empire in some manner.
I am an entertainer - this is My job. I am on Cam4 to work.
I am not interested in "hooking up" with anyone other than submissive men/women who want to be My slaves. I'm not here to look at your dick for free. I am also NOT interested in watching you masturbate, unless you are paying handsomely for the privilege. I prefer My slaves to be locked in chastity.
I have real slaves/domestic servants, and they appear with Me on cam from time to time.
If you want more info on Me, visit ww***oddessLilithVideos.com and/or follow Me on Twitter: @GoddessLilith66 and Instagram: @GoddessLilithDomme
If you like to be humiliated/cucked/SPH'd by a couple,
My HOT Alpha is available to session with Me
(has to be scheduled if He's not with Me at that moment.) Simply request in chat or send a message to My inbo***olor=rgb(204, 102, 255)]
***If you can't tip, Leave a 5-Star Rating!***
[/color]
Tip Menu:
15 tk: PM
5 tk: Ask Me Anything
10 tk: Humiliate you in chat
15 tk: Pick one: Feet, Spank Ass, Worship Boobs/Armpits/Legs

18 tk/min: Private Session (with
cam2cam
)
20 tk/min: Watch your cam only
50 tk/min: Custom Videos
100 tk: Lifetime Snapchat access
200 tk: VIP Lifetime Snapchat access (including DMs)
you can expect to pay for pvt sessions with Me or any of My personal attention.
[b]PMs cost 15 tks to initiat***]
Don't hang around My room begging and jerking without paying - you'll be banned. Also, if you want a private,
don't ask for ******
1) I don't have methods outside C4 to accept payment from you, and it's against C4 rules to do so in the first place.
2) Chances are, I probably don't want to watch you... That's part of the reason I stopped doing Realtime sessions. you pigs gross Me out. If I am looking at you, it's going to cost you more. (Although, I don't hate looking at all male genitals. I find great amusement in laughing at tiny ones. Especially with My sexy Alpha.)
[size=7][i]
I DO NOT CAM NUD***][/i][/size]

Some #fetishes I do:

Foot worship
Humiliation/Degradation
Trampling
Sissification
Financial Domination
Cuckolding
Chastity
SPH
CEI
Giantess
Corporal Punishment
slave Training
Strap on
Pegging
Roleplaying - M*mmy (or Daddy), Teacher, Hot Boss, Bratty Sister/Stepsis, Evil Witch/Satan Worshipper/Demon - (others just ask)

If you're less interested in playing but want to hang out and just be around Me, that's cool too. Just make sure to contribute positive things in chat, and do any online tasks I may assign. Be sure to rate Me 5-stars as well!

I am also in a heavy metal band called Sorrowseed. Look it up on Youtube if you like metal. Feel free to tell Me if you've been listening \m/

I am real, I don't wear a lot of makeup. My skin breaks out sometimes and under My eyes gets dark since I don't sleep a lot. I don't care if I look like a perfect doll on cam. I also hang out in My pj's a LOT. I will get pretty & fancy, when *I* want to, and not for you. Also, I will not sugar coat things and pretend I like you if I don't. I will kick/ban you if you piss Me off. I am not afraid to tell you when you say something I don't lik***]Speak to Me with RESPECT always or you'll be banned.
Say "yes Goddess" when speaking.
[color=rgb(255, 102, 102)]DO NOT call Me "baby", "bb", "babe", "hun", etc, or you'll be kicked/banne***olor]
I am not here to be fake and pretend I enjoy seeing you masturbate. I am not going to pretend to like you when I really think you're a filthy, pathetic little pig. If you want to play, you will play MY way. If not, there are hundreds upon thousands of other rooms with girls just waiting to give you your little fantasy.
Lastly - Do NOT lurk around in My room without contributing - if you don't have tokens, you can do online tasks for Me on Twitter, or tribute in other ways.
Freeloaders and wankers will not be tolerated.
Follow Me on Twitter to get updates of all the epic shit I am up to!!
@GoddessLilith66

I am also on Instagram: @GoddessLilithDomme

xoxo,
Goddess Lilith