Celebrate July 4th with Huge Savings on Naked News Memberships!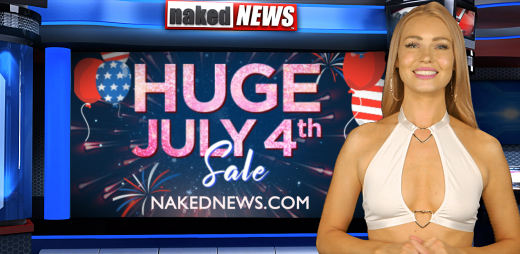 Are you looking for an exciting way to celebrate Independence Day? Look no further! We have an exclusive limited-time promotional deal from Naked News that will make your July 4th festivities even more thrilling. Get ready to save big while enjoying the sexiest newsreaders, adult superstars, and a treasure trove of archived content. Read on to learn more about this incredible offer!
Unveiling the Promotional Deal
For the week of July 1st through July 8th, Naked News is offering a sizzling deal on their memberships to commemorate the July 4th celebrations. During this period, you can enjoy their premium content at the throwback rate of just $14.95 per month or $72 per year. That's a significant discount from the usual $20 per month and $96 per year, giving you a fantastic 25% savings!
What Do Members Get with a Naked News Membership?
As a member of Naked News, you gain access to an immersive world of adult entertainment and information. Here's what you can expect from your membership:
Six New Shows a Week: Get ready to be captivated by the sexiest newsreaders on the planet. With shows featuring stunning personalities like Marina Valmont, Eila Adams, Tia Larose, Veronica Foxx, Frankie Kennedy, and more, you'll have a front-row seat to their enticing performances.
A Diverse Range of Content: Naked News offers a vast array of segments to cater to your diverse interests. From news updates and lifestyle features to fitness tips, cooking demonstrations, interviews, and thrilling in-the-streets coverage, there's something for everyone.
Access to Five Years of Archived Programs: Explore an extensive library of thousands of nude segments. By delving into Naked News' archived programs, you can rediscover memorable moments and witness the evolution of their captivating newsreaders throughout the years.
How to Sign Up
Ready to take advantage of this exceptional offer? Signing up for a Naked News membership is quick and easy. Simply visit https://www.nakednews.com/ and follow the instructions to create your account. Once you're in, a world of tantalizing news and entertainment awaits you!
Make your celebrations sizzle with excitement by joining Naked News and taking advantage of their limited-time promotional deal. Don't miss out on this fantastic opportunity to immerse yourself in a world of sensuality and entertainment. Sign up today and let Naked News ignite your passion for news like never before!