11 Best Hookup Sites for Sex Dates in 2023 [Free & Paid]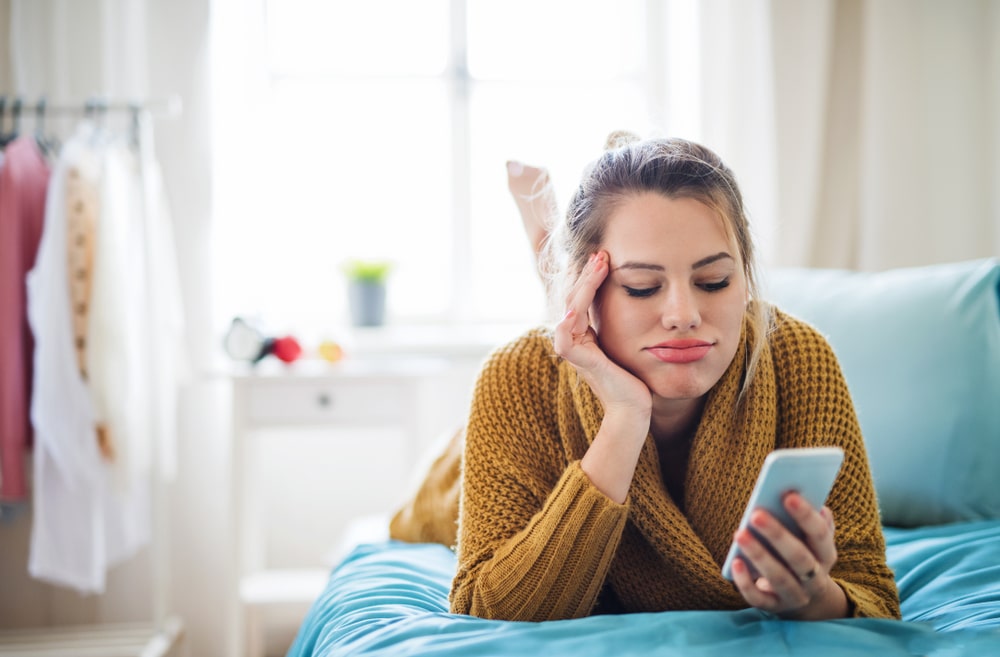 The average American has the most hookups at age 27. If you're reading this a week before your 27th birthday, I hope you've been tested.
Whatever your age, there's no denying that hookup culture has exploded in the past couple of decades, which hookup sites and apps making it easier than ever to get busy without going to a fancy restaurant beforehand.
After all, if you both want sex, why complicate things? Get to it. We all got stuff to do.
So, with this in mind, we've reviewed 11 of the best hookup sites and casual dating apps online, giving you a bunch of options catered to different people and interests, whether you're a young professional or a bisexual farmer.
Let's get to it!
Top Adult Hookup Sites and Apps [2023]
While hookup sites and traditional dating sites obviously have some crossover, there are plenty of websites and sites online which are geared towards sex and casual adult hookups… whether the developers say it or not!
Here's a quick rundown:

Pros
Open-minded community
Multiple kinks & fetishes
Regular-looking people
Chat rooms & sexy video content
Hookups for hotwives, couple sharing, & threesomes
Cons
Not the "hottest" users
More men than women members
Adult Friend Finder is the best adult hookup site to bring an extra person or two into the bedroom. Whether you're looking for hookups, swinging, or just casual dating, there's a little bit of everything over at AFF.
The nice thing about Adult Friend Finder is how the users are actually normal looking… they're not ultra-hot Instagram models.
While that might sound like a bad thing to some, it means that your interactions are less intimidating and you're more likely to get a hookup if you're a regular Joe.
Add in their chat rooms, live webcams and advanced search features… you've got yourself one of the top adult hookup sites that has stood the test of time since the 1990s.
2. Zoosk – In-App Live Video Chat
Pros
40 million members
Nearly 50-50 gender split
Caters to all sexual orientations, ethnicities, and religions
Live video chat feature
Cons
Lots of fake profiles
Many users looking for relationships

Zoosk is more of a casual dating site than a hookup app, but you can still 100% get results. With a near-even gender split, it's one of the few places where straight guys have a shot at getting responses from women.
You can use search filters to narrow your choices, and Zoosk's algorithm tracks your behaviors so they can tailor your future results to match your preferences. So that's nice.
Zoosk is full of users looking for serious relationships, but some want a simple hookup or an FWB match agreement. Just make sure you're upfront about what you're looking for from the get-go.
You never know!
The live video chat feature is also really cool, allowing you to double-check that your date is legit by chatting on video beforehand. You can also check that you're not getting catfished by some dodgy guy in a basement.
3. Ashley Madison – Best Hookup Site for Fast Results

Pros
Unique "affair" angle means more hookups
"Free for women to use" means higher female-to-male ratio
Discreet & anonymous
Face-blurring features & panic button feature
Cons
Morally questionable
Not designed for hookups strictly
Depending on your views and ethics, Ashley Madison may not be the best for you. It famously is designed for husbands and wives to cheat on their partners.
However, for hookups, we can not deny that the members here are more sexually frustrated and eager to find a one-night stand compared to other sites.
Silver linings, I guess.
Similar to a nightclub, women get in for free but guys have to pay after a few free messages. That's just the nature of the beast with a hookup site like this.
Still, the result is a higher female-to-male ratio than on other hookup sites. You get what you pay for, I guess!
It's still cheaper than buying a lobster dinner for two or whatever.
4. Seeking – Luxury Dating Site
Pros
Highest female-to-male ratio
Free for female users
Targets wealthy men & attractive women (primarily)
Displays salaries & net worths
Cons
Guys are expected to be rich
Girls are held to a high standard of beauty
Seeking is a "luxury dating site", which means it's primarily designed to connect wealthy male users with young/attractive female users.
The genders can be swapped, but that is usually the scenario we're talking about.
So yeah, it's not a hookup site as such, but if you're a young/attractive woman or a dude with cash to splash, it can sure act like a hookup site.
This is one of the few adult hookup sites that has way more women than men, many of who are still in college or young enough to enjoy the party life with no desire for commitment or a monogamous relationship.
You have to pay to play the game with this dating website. Just be aware that agreeing to date doesn't mean agreeing to sex.If you're looking for sites similar to Seeking, check out the best sugar daddy sites.
5. Feeld – Very Casual Dating Site

Pros
LGBTQ+ friendly
Polyamory friendly
Casual dating heavily encouraged
Stay quite anonymous
Cons
Smallish user base
Not always easy to meet IRL
You know what they say about "playing the Feeld"…
Whether you're seeking a polyamorous relationship, a casual fling, or simply looking to expand your horizons, Feeld has got you covered.
Yes, their advanced matching algorithm ensures you find the perfect match, while their strong emphasis on consent and respect creates a safe space for everyone.
One of the few dating apps to embrace polyamory and open relationships, Feeld is a treat if you're looking to explore group sex or simply non-monogamous situations.
Get into it.Some people even consider Feeld one of the best swinger sites.

Pros
Narrow to your location
100% free no sign up
Allows all fetishes
Can be anonymous

Cons
Lots of trolls
Small user base
Reddit Dirty R4R is a place where over 450,000 Reddit members post personal ads looking for free hookups online. Some of these are spam or bots, but with a little luck and work, you can 100% find people in your area who are DTF.
Believe us when we say they've got a bit of everything you could fantasize about, including virgins, MILFs, and swingers. Best of all, it's completely free! Post an ad describing what you're seeking or respond to other users' posts.
Reddit is designed primarily as a forum site, and Dirty R4R is just a branch of that site, so you're not going to find an amazing UI or a ton of cool matchmaking features… this is basic, bare-bones stuff.
But it's free, so don't complain.If you remember the earlier days of the internet, it's one of the best Backpage alternatives for hookups and casual fun.
7. Bumble – Best Dating App for Women

Pros
Women are in control
Different versions for hookups, friends, or networking
Easily mark what dating profile you're interested in
Female-owned company
Cons
Men can't contact a woman first
If more than 24 hours pass without contact, communication closes
Bumble is one of the best dating sites for hookups geared toward women. On Bumble, the woman has to make contact first before a man can respond. There's nothing men can do to make the first move except like or heart their profile.
Ladies, this means no more inboxes full of creeps and d*ck pics. Yay!
While you can use this site to establish quick sexual encounters, there's also the option to set a separate profile where you can save potential friends' profiles. Or you could link with Bumble Bizz to do some professional networking too.
If you're a woman, Bumble and its various versions have basically got your whole personal and professional life covered.
8. Pure – Temporary 24-Hour Profiles

Pros
Majority of users are between 18-32
Most features are free
Temporary hookup profiles
Good level of anonymity

Cons
Some people don't like the 24-hour aspect
Limited to 10 likes a day
Pure is a hookup app that allows you to create a temporary profile that is deleted after 24 hours. The idea is that you put it up, you say what you're looking for, you get lucky (hopefully), and then your thirsty profile vanishes the next day.
You're like a hookup ninja.
Instead of providing a full-detailed bio, Pure requires you to answer three questions. But you can provide in-depth responses that help search algorithms narrow down the returned results.
To communicate with a potential dating match, both parties have to swipe their interest. Either party can initiate communication – women may make the first move, but so can the men.
It's not for everyone, but it's a cool concept.
9. Alt.com – BDSM-themed hookups
Pros
Fetishes & kinks galore
Adult videos, content, and articles
Auto reply feature
Multiple communication methods
Cons
Website UI is poor
Fake profiles common
Alt.com has received lots of bad press for being a glorified porn site that connects you with other users. This site is sexually explicit, with live-action cams, video streaming, nude photos, and outrageous forum topics.
I mean, it is what it is.
If you're looking for a hookup app that is very "out there" about the kinks and fetishes of its members (including NSFW pics and video content) then the world is your oyster here.
Get compatible matches with Cupid Report and New Member Matches, or attempt hookups through Friend Network, private chats, voice messages, or videos. There's some for everyone, so long as you're a bit kinky.
10. Tinder – Famous Adult Dating Site
Pros
Incredibly popular & widely used all over the world
Premium add-ons like "super likes"
Only chat with people if you both "like" each other
iOS & Android compatible
Cons
Hard to get responses as a straight man
In-app purchases are tempting
When it comes to hookup sites and apps, you don't get more famous than Tinder!
Tinder's swipe feature lets you browse through a sea of potential partners, allowing you to effortlessly connect with people who catch your eye.
Whether you're seeking a soulmate, a casual date, or even just a new friend, Tinder's diverse user base has something for everyone.
However, Tinder is a victim of its own success a little bit, with male users finding it near-impossible to get a reply from women unless they're a solid 10/10 dude.
On top of that, fakes/scammers are a big problem, and the in-app purchases can quickly mount up if you're not careful. It's worth a try for sure, but it's not the best hookup app in 2023 in our opinion.
11. Grindr – Best Gay Hookup Site
Pros
Designed for gay men & LGBTQ+ people
Progressive features (pronouns, HIV status, etc.)
Find gay men close to your location
Super sex focused
Cons
Many toxic/shallow users
Free version is quite limited
Grindr is the go-to platform for meeting gay men and LGBTQ+ people near you who are looking to get down and dirty "right now".
With its intuitive interface and location-based matching system, finding your next hookup is as convenient as it gets. You can see exactly how far away users are, allowing you to plan for the logistics of your hookups in advance.
Isn't technology fun?
With extra cute features like "gaymojis" and Grindr tribes, it's easy to see why this conveniently designed gay hookup app has been a staple of the queer community for well over 10 years now.
Hookup Apps FAQs
So, you're having a look around the online dating sites and you're curious for your next sexcapade, but you're not sure on some foggy details? Look no further.
What are the best adult hookup sites when travelling?
When it comes to finding the best adult hookup sites while traveling, there are a few options that stand out. Popular choices include AdultFriendFinder, Ashley Madison, and Tinder.
These platforms have a large user base, global reach, and offer features tailored for casual encounters.
The top sugar daddy sites are also quite popular with travelers, allowing wealthy business travelers and their companions to go on dates and potentially hook up while traveling.
What is a "hook up" specifically?
A 'hook up' refers to a casual sexual encounter between two consenting adults. It can range from a one-time encounter to a friends-with-benefits arrangement.
The emphasis is on enjoying a physical connection without the expectations or commitment of a traditional romantic relationship. Hooking up is all about exploring your desires and having fun in a consensual and respectful manner.
Make sure the other party is aware that you want to hook up before meeting them!
Are there any 100% free hookup sites?
While most hookup sites and apps offer free registration, finding a 100% free hookup site can be challenging.
However, platforms like Grindr and Tinder offer basic features at no cost, allowing you to browse and match with potential partners.
Keep in mind that premium subscriptions often unlock additional features and improve your chances of finding a successful hookup.
As they say… you get what you pay for.
What are the best gay hookup sites?
For those in the LGBTQ+ community seeking gay hookups, several sites cater specifically to your needs.
Grindr, Scruff, and Adam4Adam are widely recognized as some of the best gay hookup sites available for men.
If you're a lesbian, you're usually best with a platform like HER, which is mainly designed for queer women.
Can hookup apps be used for dating too?
Absolutely! Many hookup apps can also be used for dating. While their primary focus is on casual encounters, these platforms often have features that allow users to express their intentions and preferences.
Whether you're seeking a one-night stand or a long-term relationship, you can find like-minded individuals on apps like Tinder, Bumble, and Hinge. It's all about being clear about your expectations and finding someone who shares your desires.
Let people know what you're looking for!
What is the safest hookup site?
When it comes to safety on hookup sites, it's crucial to prioritize platforms that have strong security measures in place.
Established sites like AdultFriendFinder and Ashley Madison have a reputation for implementing stringent privacy features and verification processes to protect their users' identities.
Dating apps like Bumble are also seen as safe for female users due to their emphasis on giving women more control over who can talk to them.
Still, it's always a good practice to exercise caution, communicate openly with potential partners, and trust your instincts to ensure a safe and enjoyable experience.
Get Down With Sexy Online Dating Sites!
There we have it!
You now know the best hookup sites and sites designed to help you set up a quick one-night stand. Each of these sites offers members looking for a random hookup, but some sites have better features for specific subsets of people.
Our top winners have to be AdultFriendFinder and Ashley Madison – too many success stories and options for quality hookups, thanks to their features and more. Plus, their users tend to be "normal people" that are super open-minded, which always helps!
Whether you're looking for hookups, casual dating, or anything else… we hope you find what you need!