Interview with Beautiful Cam Girl Barbiee_doll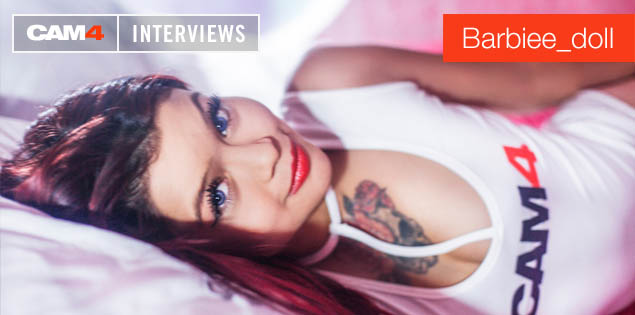 Today let's cozy up with Barbiee_Doll, a beautiful, young cam girl with big blue eyes that will make you fall in love… wait until you see her body. You'll crave this girl forever. In just a little under a year, she's capture the hearts of thousands of fans and her shows are not easy to forget. Want to know more? Read the full interview!
How would you like to introduce yourself to our readers?
I'd like to say that I'm a nice girl, I get along with everyone and I am always working towards my dreams!
What are your hobbies?
I really like to listen to music, go out and dance, and spend time with my friends.
What's your biggest vice?
Sleeping in really late.
Can you describe your perfect date?
My perfect date would be a very romantic dinner, with a man a love – good wine, and then who knows, anything can happen.
If we had a party with everyone on CAM4, would you be the life of the party, the wallflower, or something else?
At first, I would enter quietly and go unnoticed. But then once I feel confident I'd be the life of the party.
If you could be an animal, which would you be?
A kitten, because I can be very affectionate but also if you treat me in the wrong way you'll know ?
What super power would you pick?
To fly. Sometimes I just want to fly away from the whole world and escape.
What's the wildest thing you've seen on CAM4?
Two men fucking each other really hard
Exhibitionist or voyeur, what is more your thing?
Voyeur
We use the word "sexy" so often, how would you describe yourself in 3 words?
Real, explicit, hot
Is there something you'd love to do on CAM4 that you have yet to do?
No
What's the hottest thing someone has said to you in your chat room?
One viewer described this whole scenario of him and I being in bed together – from start to finish. It was so sexy!
What's the weirdest request you've received from viewers?
To lick my armpits.
What's your craziest sexual adventure?
Having sex in a moving car!
What was the moment on CAM4 when you realized that you liked to broadcast with your webcam?
When I started to recognize users who came to watch me every day.
People have a lot of prejudices towards cam girls, is there a myth that you discovered to be totally false??
They say that cam girls stop feeling pleasure when they are with a person in real life. I still feel all the pleasure when I'm with a person.
Has camming changed your personality in any way? Or your attitude towards sex? Are you now more open, less prejudiced, etc …?
Now I know myself better, I know what I like and what I don't like.
Is there a fetish that you'd like to explore?
I have explored all of my fetishes so far.
What is your favorite part of your body?
My breasts!
Do you have a favorite toy that you use with your webcam or in private?
I love feeling the Lush toy, especially the excitement of someone else controlling me!
Have you ever dreamed of any CAM4 model? You do not have to tell us the name if you do not want ;)
Yes! One day I dreamed about an Italian model ?
What's the best thing you've been given in life?
The tattoo that I always wanted.
Is there something amazing about you that we would never think about watching one of your shows??
I love babies and watching them grow up.
Have the webcams improved your life in any way?
Of course! Sexually, personally and economically being a webcam model has improved my life so much.
If you could change your username, what would you pick?
Ruby
Don't forget to subscribe to Barbiee_doll so you don't miss any of her shows. Follow @barbiee_doll09 on Twitter to see her photos and updates!