WILD ENCOUNTERS AT NAKED & UNCUT HEDONISM II ARE ABOUT TO EDGE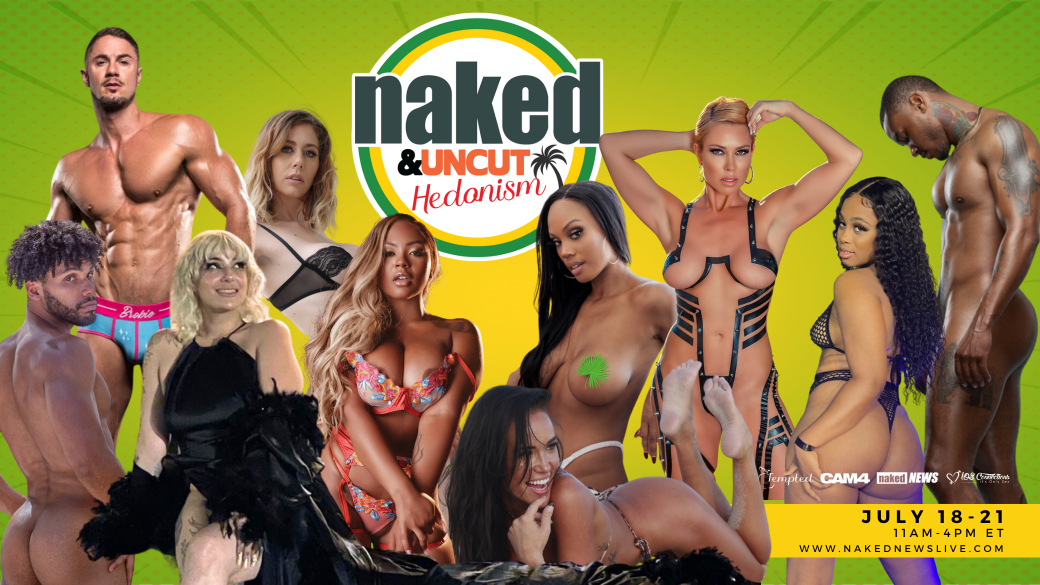 [Jamaica, July 12, 2023] – The time has FINALLY come! CAM4, Tempted , Naked News, and IOS Connections launch Naked & Uncut Hedonism LIVE EVENT. 10 unadulterated content creators explore their Hedonistic appetite and experience a groundbreaking trip to Jamaica. As a viewer, get unprecedented access to witness these sexy individuals dive hard into Dirty Perv Week at Hedonism II.
Picture yourself tuning in from the comfort of your own home as these captivating individuals take you on a wild ride straight into Negril, Jamaica. From Tuesday, July 18th to Friday, July 21st this is not so ordinary experience will showcase each creator as they engage in a variety of passionately charged activities which include Erotic Massages, Naked Dancing, Body Shots, Pole Dancing, Naked Twister, and a plethora of boner raising games like Wet-Shirt, Micro Bikini, and Twerking. Want to be turned on while getting a taste of competition?
Streaming live, from 11 am EST to 5 pm Frankie Kennedy Jacqui Childs, Jeff Uncut, Denny Cakes, Emma Rose, August Skye, Lil Moore, Avery Jane, Skyy Knox and Tony Genius offer live streams of epic proportions. Hosted by the illustrious AVN Award Winning Actress, Carey Riley, and the sensational rising star, Elana Bunnz they will be joined by Laura Desiree offering featured interviews for CAM4 and Naked News while hosting LIVE streamed events.
How to watch:
As a CAM4 user with a gold membership, you can log in and access event and creator streams. These options are listed at the top of the CAM4 website.

As a user without a gold membership, you can still log into your CAM4 account and see the creators who are currently live or upgrade to gold for full access.

If you are a Naked News Live subscriber, you will enjoy all the live events with your monthly subscription to tempted.com/nakednewslive or NakedNewslive.com. Not a member? Subscribe now to receive a special event price of $9.95, offer ends July 21st.
Follow our Naked & Uncut Hedonism page for all live streams details: NakedandUncut.com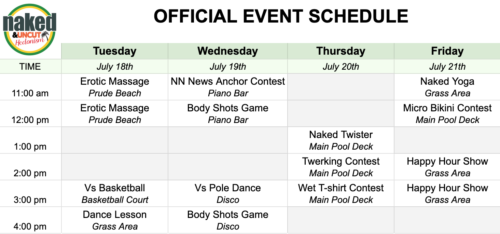 Here's a sneak peek at the thrilling schedule of events:
Tuesday, July 18th

Erotic Massages (11 am – 1 pm ET): Two creators share an intimate massage together in a beach cabana at Hedo, bringing you the ultimate in relaxation and sensuality.

Vs Basketball (3 pm – 4 pm ET): Creators compete in a series of naked basketball-themed challenges, proving that athleticism and audacity go hand in hand.

Naked Dance Lessons (4 pm – 5 pm ET): Our creators embrace their wild side as they learn some sizzling moves from a local dance instructor, giving you a taste of their seductive rhythm.
Wednesday, July 19th

NN News Anchor Contest (11 am – 12 pm ET): Our creators have a shot at fame as they vie for the opportunity to be featured on Naked News. Armed with a script, they share a little about themselves while being interviewed by the charismatic Laura Desiree.

Body Shots Game (12 pm – 1 pm ET): Viewers engage with the action by using CAM4's spin the wheel feature to select two creators who will have shots taken off different parts of their bodies, adding a dash of thrill to the mix.

Vs Pole Dance (3 pm – 4 pm ET): Watch as seasoned pole dance experts among our creators showcase their skills before teaching the others how to work the pole. After the lesson, the newbies compete for the title of best pole dancer.

Body Shots Game (4 pm – 5 pm ET): As the excitement continues, viewers once again have the chance to select two creators for a steamy body shot experience, raising the temperature even higher.
Thursday, July 20th

Naked Twister (1 pm – 2 pm ET): Twist and turn with our creators in a sensational game of Naked Twister, where they strip down for some exciting rounds while interacting with viewers in the chat.

Twerking Contest (2 pm – 3 pm ET): Witness the battle of the booties as creators go head-to-head to claim the title of the ultimate twerking champion. Viewer votes will play a vital role in determining the winner.

Wet T-shirt Contest (3 pm – 4 pm ET): Our ladies put on their favorite Naked & Uncut t-shirts and make them even more enticing as the host pours water on them, providing a delightful spectacle for viewers to revel in.
Friday, July 21st

Naked Yoga (11 am – 12 pm ET): Start your day off right as Laura Desiree guides our creators through invigorating morning yoga routines, helping them find their Zen amidst the whirlwind of excitement.

Micro Bikini Contest (12 pm – 1 pm ET): Supplied by Sling it Bikinis, our creators strut their stuff in these eye-popping bikinis, vying for the crown as judges and viewers choose the ultimate winner in this fierce fashion showdown.

Happy Hour Show (2 pm – 4 pm ET): Hosted by the enchanting Laura Desiree, this grand finale showcases our creators going head-to-head in erotic challenges, delivering an unforgettable 1-on-1 showdown.
If you miss the live events, visit NakedNews.com to watch on-demand content.
About Naked News:
Naked News is a leading adult entertainment network that revolutionizes the way news is delivered, captivating audiences with a unique blend of information and sensuality.

About CAM4:
CAM4 is a premier live streaming platform that connects creators and viewers, offering a diverse range of adult content and interactive experiences.

About Tempted:
Tempted is a renowned adult entertainment brand known for its captivating content and innovative collaborations that push the boundaries of pleasure.

About IOS Connections:
IOS Connections is a trailblazing event production company that specializes in creating unique and immersive experiences for adult entertainment enthusiasts worldwide.