Natasha6: A Spicy Siren Who Loves to Entertain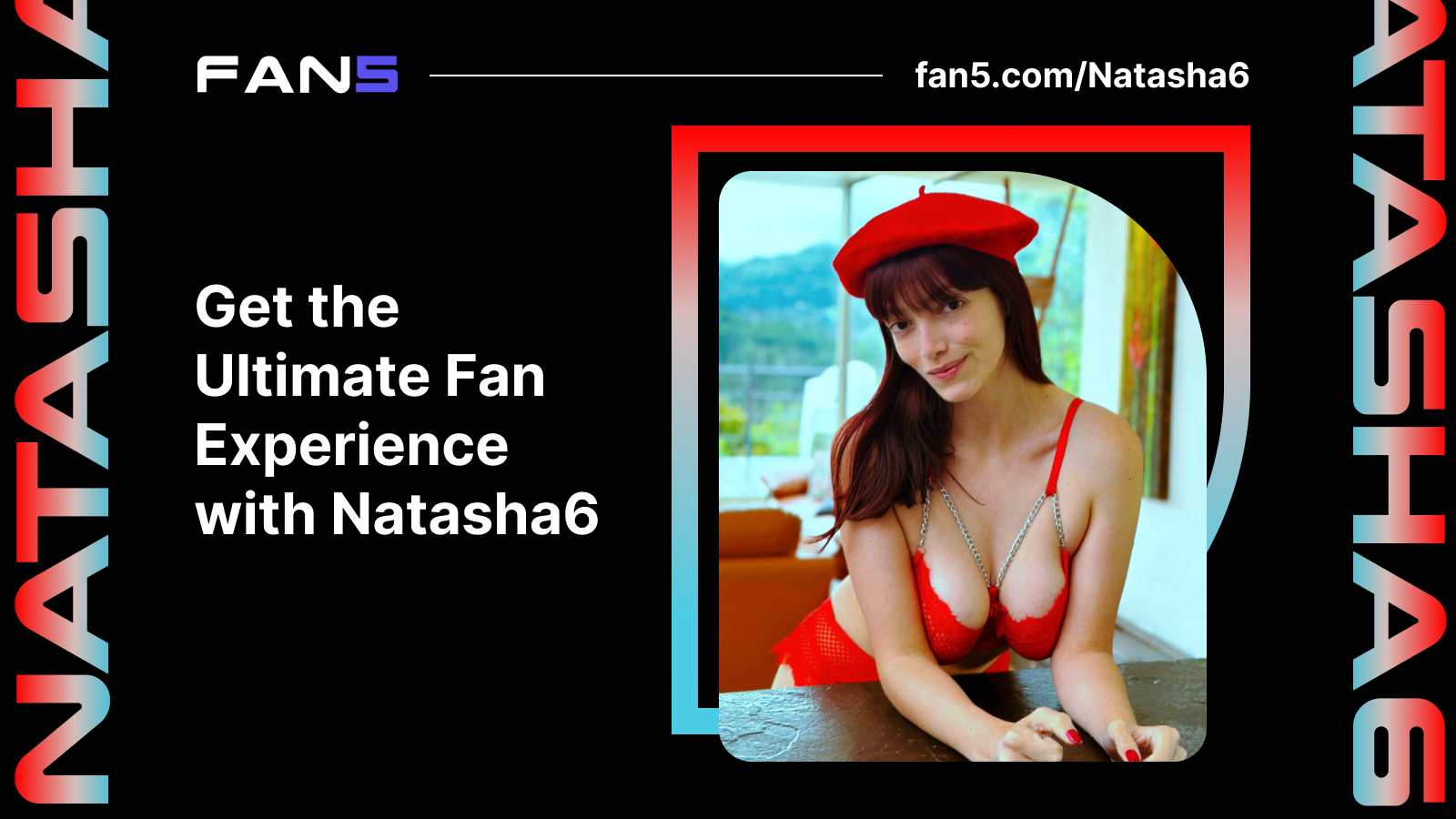 Welcome to Natasha, the naughty nymph of the camming world. Originally of Spanish origin, this brunette bombshell now lives in Lyon, France, where she enjoys being extra naughty with her followers. She is always ready to give you a top performance, and loves to cum for her audience. She loves to play and entertain her fans ensuring everyone has a great experience! With a passion for sex toys, she allows her fans to take control in the hopes of reaching multiple orgasms! A humorous and passionate creator who is open to experimenting with new sex positions, she is always ready to entertain – so what are you waiting for? Click here now.
Body Beautiful. How Connecting with Your Figure Helps Creativity
During her interview, Natasha shares with us the secrets in helping her make unique and special content. She explains that when anyone is creating content, you should try to make a connection with your body, in order to make everything perfect. Using just the right amount of boobs in a shot, or shaping your ass into the position you need for the camera. Natasha is a big advocate of using her phone to make content, as long as it has a good camera. Ensuring the photos still look professional. She says that lots of people prefer photos that are not from a professional studio, but are much more about you and the way you create your content.
Question: Can you share a heartwarming story of how your content has helped someone embrace their own sexuality or body positivity?
Natasha6: When I started making content, it was about 4 or 5 years ago, and I started with a friend of mine. We set out on our journey, and after about a year, my friend said that she wasn't enjoying it in the same way that I was, and so she decided to quit. So, I continued on my journey, and then after another year had passed by, I was talking to my friend who explained that she was still struggling with her body issues. She was not as body-positive as me, and this was definitely making her sad. So I started to motivate her, by showing her how much she will love being a content creator, and there are always people who will appreciate her body just as it is. Over time she began to feel more confident, and then a few months later she started making content again. What I realized was that by helping someone else, it has helped to build my own confidence, and now I feel that I have more experience when making my own content.
Keep Smiling. Natasha Talks About the Importance of Self-Care
When working in this industry, it can sometimes become difficult to maintain a healthy work-life balance. However, Natasha says that is a job just like any other, and if you treat it as such, you can make the balance work well for you. She reminds us that you have to be organized when you are creating content, and take the time to check up on yourself and check your body. She tells us that If she has a smile on her face, then she is happy and she can make content. But if she is feeling bad, then you shouldn't be making adult content. Natasha says that you should listen to your own body, and remember that you are your own boss and you don't have to ask anyone about taking time out. She makes most of her content during the week, and then at the weekend she takes time out to enjoy tv, go to the park, or spends time at the gym. The key here is to take time out to rest and eat well between working, and listen to your body.
Question: If you were to give your content creation process a food analogy, what dish would it be?
Natasha6: I think it would be like a pizza, because it always has something on it that everyone enjoys. You start off with the base, which is the part where I am at the start of the content I am creating, and then you can add the toppings. So for instance, if you like ham or pepperoni, or cheese, then you can just add whatever you like, depending on your tastes. It is the same with adult content, you choose what you want to see, based on your own tastes. So you can just have cheese, which would be a normal traditional style of content, or you can choose something more spicy to make it your own!
Diverse Community. Connecting with Cultures to Spread Joy
Natasha tells us that most of her audience are French, which has definitely helped her to be able to connect with that culture. However, she works hard to connect with all cultures in order to embrace a supportive community. Because she has a large following from other countries, such as Italy, or English-speaking countries like the US, she takes time to get to know the individual cultures. She says that it is very important to do that, since she hasn't traveled to those other places, so if you spend some time learning about them, then it helps to create a good mix for her content and spread joy. Another thing Natasha does is to make content in different places, such as in a forest or in a car.. By creating content in different places, she can express her body in a different way. But she does remind us to be careful when making content in public, because after all it is adult content, so make sure you are safe and secure.
Question: If you could travel back in time to give advice to your newbie self, what would you say?
Natasha6: I would say that you have to be free, and to do whatever you want. I am a firm believer that whatever type of content you want to make, you can make it. That way, whatever you make, you can enjoy it, and no-one is going to tell you that you have to make everything perfect. Just remember that sometimes when you are making content, things don't always work out perfectly. For example, if I am going to take photos in the hot tub, then I will expect everything to be just right, such as the water temperature or the lighting, but things don't always work out like that. So just enjoy the process and don't think about it, and if you want to shoot a video or take some pictures – just do it. Do whatever you want, when you want. But make sure you are in the mood to do it, because you need to enjoy the process.
Music Matters. Using Melodic Themes to Support Content Creation
When Natasha is getting creative, she loves to use music to help with her content. And whilst she doesn't have a specific playlist, she will often search youtube for some great playlists, like R&B or Jazz. She is happy to use anything that works well with creating content, however when she's not creating, she likes to listen to UK pop music. Most of her favorite music is from British female artists. When asked for a theme song for her content she said it would have to be 'Careless Whisper' by George Michael, because it is really sexy, and particularly apt for things like striptease.
Question: How has being an adult content creator contributed to your personal confidence and self-expression?
Natasha6: When I started making content, I felt like how most girls do, afraid to show their bodies. When we get older, we tend to hide the parts of our body that we don't like. However, when I started on my content creator journey, I realized that no-one is perfect. If you have a part of your body that's unusual, such as long legs, then you will always find someone who is going to love that part of your body, and worship it. Someone is always going to appreciate your body, just the way it is. By thinking this way, it has helped me with my self-esteem. So remember, there will always be someone who likes you for who you are, and they will make you feel special. By learning that early on in my career, it has helped me a lot.
Valuable Insights. Using Feedback and Life Lessons to Strengthen Content
Natasha is very fortunate to receive lots of positive feedback about her content, and she tells us that the most rewarding feedback is when people praise her for being herself. She tells us that on one occasion, someone told her that she was not afraid to show her true self, which she believes is because she doesn't use makeup or try to dress a certain way. When she creates content, she simply wears what she feels comfortable in. Being natural is what makes her content so unique and special. One of Natasha's valuable life lessons is that you must love your body the way that it is. If you want to enhance your body with surgery, then go ahead and do it, but remember there will always be someone who will love you just as you are. Her biggest piece of advice is to embrace who you are, and love who you are.
Question: What's the funniest blooper or mishap you've encountered while creating content?
Natasha6: Well I do have a few stories, but there was this one particular time where I was making content, and I needed to add some whipped cream to my feet. Now at the time I was filming this, I was in the middle of moving houses and I didn't realize that I had mixed up some of my kitchen jars. So when I started licking off the cream, the taste wasn't what I expected it to be – it certainly wasn't sweet like whipped cream! What I was actually tasting was plain yogurt, which is a little on the sour side. So I had my foot up to my mouth to lick the cream off, and it wasn't what I was expecting, so I had to keep my face straight until the end of the shoot. As I said, I do have lots more stories to tell, but not enough time to tell you about them.
Thank you for supporting me.
Join their community and gain Exclusive VIP Content. Explore Now
CONNECT WITH NATASHA6
FAN5 Profile: @natasha6
CAM4 Profile: @natasha6
Twitter: @natasha6oficial
Instagram: @natasha6oficial