Iwazsoaking is WET and Talks Success in CAM4 Webcam World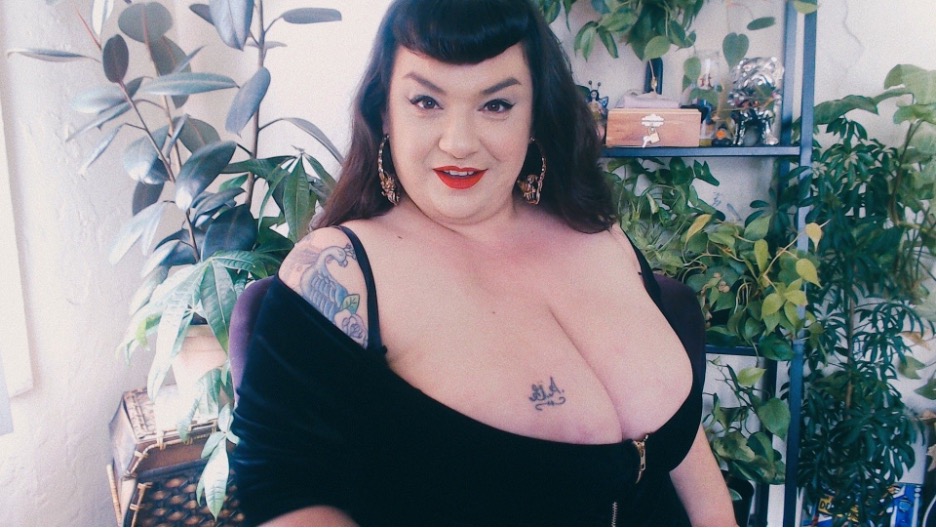 Iwazsoaking is WET and Talks Success in CAM4 Webcam World
We always love the opportunity to get to know members of our community, and provide a platform to share their incredible journeys! This time, we had the pleasure sitting down with a particular performer who has taken an incredible journey to self love and a rocky road to self confidence. Gwen aka Iwazsoaking is her name…a little hint on what this large boobed, big nippled #Milf's screen name is offering… you guessed it, a bonafied squirter!!!
Having been on CAM4 for 10 years, Gwen recently became a full time cam performer during the global pandemic. Given the freedom and opportunity to cam full time, Gwen's shows are often imitated, but never duplicated. Her kinky, curvy, costume, stocking, and hosiery wet shows are the type of shows many viewers crave and search for. Wearing 'fuck me' heals, matching lingerie, and at times anal gaping, Gwen will not only gushing for you, but playing the many roles we all dream of witnesses.
CAM4 recently sat down for an in-depth interview with Gwen (Iwazsoaking) to talk about how other women can become squirters, what it feels like to squirt, their love of filthy nasty sex, and why LGBTQIA+ STD testing is so important as a sex worker.
C4: At what point did you decide to become a full-time performer and what made you decide to start webcamming?

IWS: I've had my CAM4 account for over 10 years now. Ultimately, my curious nature about sex made me create it. At the time I created the account and started utilizing it as a masturbation outlet, I was in the adult space on the business end and kept my habits very quiet. Being a student, during the pandemic made me become a full time performer and I really worked hard to build my fan base. I have a LOT of fun doing it and so glad I took the pro-plunge and started doing it as a 9-5 job.
C4: In your bio, you state that you love filthy nasty sex of all kinds. Can you please tell us what you consider filthy sex, how it turns you on, and how has your sexuality evolved over the years?
IWS: I feel like the term filthy means different things to different people. To me, it would mean something like getting dressed up like an average housewife for one of my favorite people I've met on CAM4 over the years, and keeping the white 'fuck me' heels on match with my pretty pink lingerie, while I shoot a video seeing if my anal gapes. That's filthy to me. To me, filthy sex is the gangbang fantasies I have and will live out one of these days. I want to walk away covered in cum and looking like I was dragged through the junk yard. To me, filthy sex is making one of my sissy fans wear maxi pads, and sit on an inflatable dildo pumped up while in chastity, as I fuck myself with a giant dildo that's so far from his resembolance. He winces every time it slides in my pussy. To me, filthy sex can be anything and everything. There is no better feeling in the world than how these experiences make me feel. Once I can get over my germaphobia because of the pandemic, I plan on having a LOT OF FILTHY SEX on and off camera.
Over the years my sexuality has evolved 100 times over, and I can thank the pornography world for most of that. When I first entered into the adult space, I was still in my discovery stage. I had no idea what I liked, I couldn't ask for it, and I had a very limited view of what I considered sexually stimulating. The door was kicked open when I stepped into the adult space (thankfully), I was in a very vanilla relationship but we still experimented. Once I was single, I was WILD and did everything and anything I wanted to do. I still have a to-do sex list, but its getting smaller by the day and I am very happy about it.

C4: Can you tell us about your experience on CAM4. What do you love most about the community and why should other content creators create content on CAM4?
IWS: I've had a lot of fun and met a lot of interesting people that I adore on CAM4. I have the freedom to be the cam performer I want to be, and have met some very genuine, wonderful people I consider my friends. I think that the uniqueness of the end users are why all cam performers should consider an account here, there is truly someone for everyone!
C4: As a proud self proclaimed squirter, can you please tell us the build up leading up until a sensational squirt. Not all women know how to squirt so your insights would be greatly appreciated.

IWS: I learned I was part of the crew by accident. It had happened a few times before during sex, but I didn't consider myself a squirter back then and couldn't get it to happen on demand. Through camming and lots of play time with my holes and toys, I finally figured it out! To get me there, I need a few things….I need something in my ass, I need a VERY strong clitoral vibrator, and an average size toy in my pussy (non-vibrating or vibrating doesn't matter). When I'm very turned on, I don't waste any time. Every hole is full, and I can feel it building. It's a very strange sensation for me, I feel like anything could happen and I'd be ok with it, and I want to fuck the world. It almost feels like you need to pee, but different also….like there is a pressure building and a sense of urgency combined with being really turned on and not wanting to stop the pleasure. It builds very quickly for me, and I cannot always control when it happens. I'm more laser style than gusher style from what fans tell me…..
C4: As most women would love to know, is it difficult to cum on cam? What type of control or focus is required to get to full orgasm while broadcasting live.
IWS: Not very difficult for me, but I will have an occasional issue. I think its very natural in this business to have moments where I need to dig deep for something to tune out a chat I am having, but I pride myself on VERY rarely faking. I would rather take my time and switch positions, toys, or close a chat window and try to find something in my mind that gets me off verses faking it. Having a lot of sexy ongoing dialogs with some of my favorite people I play with on CAM4 really helps, and so does my libido. I am VERY sexually insatiable and love performing, love sex, and love self pleasure. I think those things combined are why I don't have as many problems in this area to speak of, other than the rare event.

C4: You have taken an important role in the process of STD Testing for a very well known non-profit which services the LGBTQIA+ community, and people of color. Can you please tell us about this role, why it is important to you, and why you think this is extremely important for the community?

IWS: went to trade school and LOVED IT. Being a phlebotomist and medical assistant was like coming home for me. I love morbid things like blood, and the human body. I am a huge people person and love the idea of supporting my community. When I started job hunting post graduation, I knew I didn't want to be stuck in an urgent care setup, or a stuffy office environment. The idea of working directly with this patient population that has given me so much in my life is like a dream come true. I wouldn't be sitting here if it weren't for patients like I work with daily, it truly is my pleasure to provide them with sexual wellness testing and to be part of the process of them staying healthy, and living their best lives.
We do important work with the sex worker population in the area, coming full circle and helping these patients in particular is extremely important to me on a deeply personal level. I consider myself a sex worker, know what finding sexual wellness care and testing can be like in our line of work. All of these communities are often overlooked, and treated poorly by the typical medical world without access to essential services like we provide for whatever reason. It is extremely important to me and that all of these patient populations receive healthcare as it is their human right, and I feel blessed to work where I do.
C4: For other women who may not feel confident turning on their webcam and performing, what is the best advice you can give to those wanting to get into webcamming but are scared to.

IWS: You only live once, and nobody is going to live your life for you sister! Taking your clothes off for strangers can be very liberating once you leave the idea that you can't do something like it behind. Wear clothes that make you feel sexy, do what feels right to you, and know that you are beautiful and sexy in your own way. Sexy is a mindset just as much as it is a look, use camming as a platform for your mind and inner desires. Try new things to spice up your shows, be daring, be real, and be yourself.

C4: What makes you feel the most confident. Is it a minset, a feeling, or affirmations? What should women do to feel comfortable with their bodies?
IWS: It is most definitely a mindset and a feeling at the same time. My road to self confidence and self love has been a very rocky one, I have been a bbw for a very long time and the world can be a cruel place. In my heart of hearts, I don't care what anyone thinks about me, or the way I look. Dismissing and leaving the classic beauty standards behind was the smartest thing I ever did, they no longer matter to me, and through their dismissal came personal freedom and self love that cannot be measured. Loving yourself is a huge confidence booster, and that would be my best advice for women who struggle with this
C4: Tell us something about you not many fans or viewers would know about.
IWS: I love plants, and would have loved going into the horticultural when I was younger.
To watch Iwazsoaking shows or to subscribe to their channels:
Official CAM4 Profile: cam4.com/iwazsoaking
Twitter: @LaliPop80337499
Instagram: @iwazsoaking