Hollyshiit: Fulfilling Fantasies Through The Eroticism of Sensory Pleasure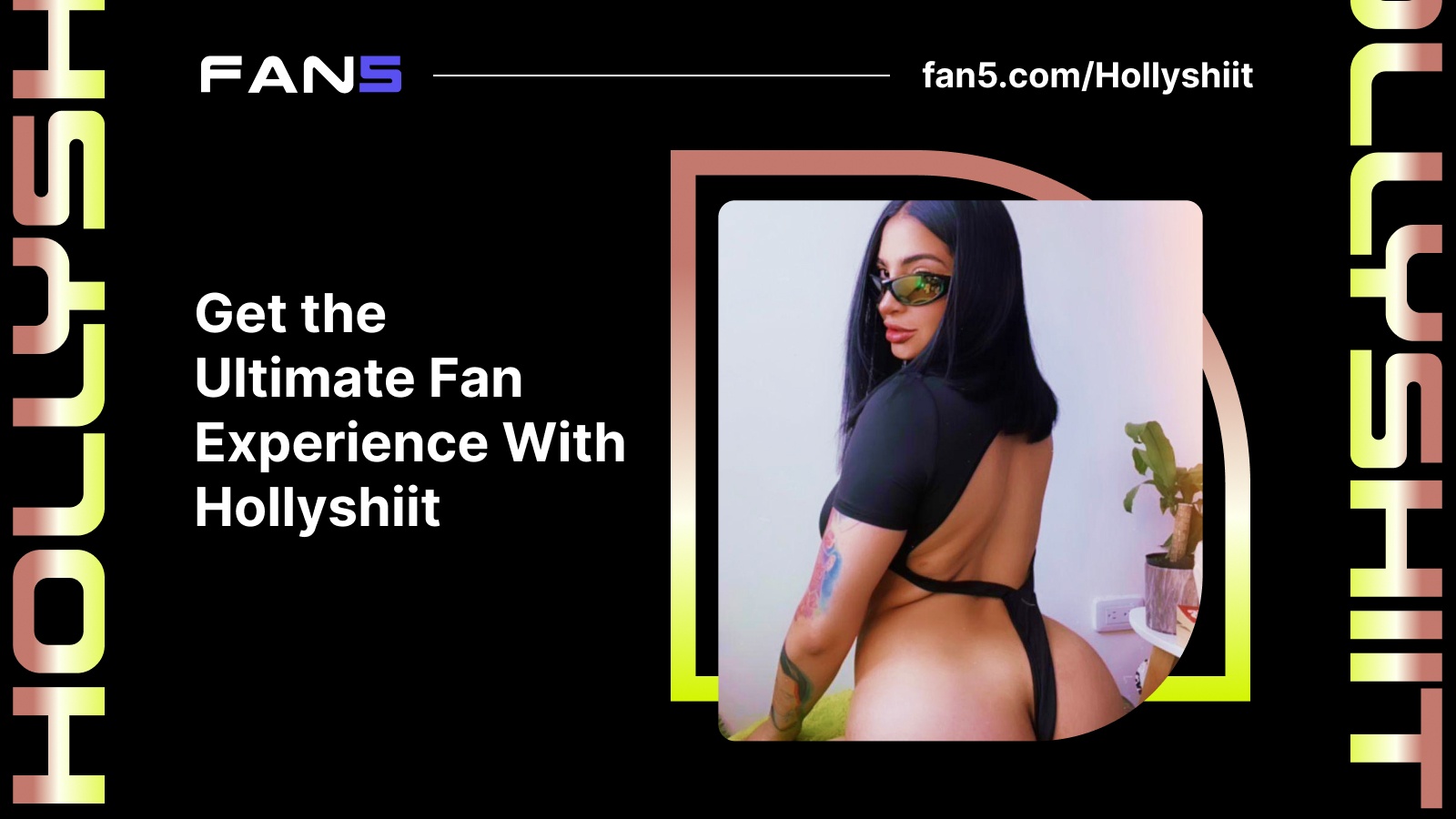 Introducing the creator of your deepest fantasies, Hollyshiit, a loyal and passionate content creator. Real name Nina, Hollyshiit is a communicative and open-minded person who loves to connect and create friendships during her exploration of sexual pleasures. If you dare to meet her, you will soon discover that all is not what it seems, when it comes to the creator of your wildest desires and dreams. A mid-twenties Venezuelan, she is passionate about researching new cultures, as she continues her journey of life-learning experiences. Her shows provide an open space where everyone can be their true selves, in an environment that is free from prejudice. So, if you are seeking no-limits indulgence, then click here to uncover the delights of the delicious Hollyshiit.
Empowering Resilience. Overcoming Challenges to Become a Stronger Creator
Hollyshiit certainly understands how to reinforce the word resilience within the industry, having emerged from a significant personal challenge that has taught her how to build strength and determination. Some years ago, when she was younger and more naive, she underwent a cosmetic procedure that unbeknown to her, would leave her with both physical, as well as mental repercussions. Her psychological health suffered immensely, and although she continued working for a while, she had to endure the mistakes of not opening up about what was happening to her. Realizing that she had to accept herself in order to like what she could see, she accepted support from a psychologist, whilst taking time out from being a content creator. Hollyshiit has made a lot of changes that have helped her to grow and at the same time, she has come to terms with the really difficult processes required to stand in front of a mirror without breaking down in tears. Having overcome those challenges, she realized in that moment that she was coming back to earth. This was, in part, thanks to so many of her fans taking to social media to inspire her, and allowing her to vent with them. She tells us that it was like a feeling of support that was so warm, having come from people who had only previously shared time with her through a screen. This drove her to push forward with her recovery, and continue making changes in her life. Although she is still living that process, she now knows that it will likely have a very positive impact on other people's lives, as well as her own.
Question: If your life as an adult content creator were a movie, what would its title be?
Hollyshiit: If my content were the name of a movie, it would be 'Hollyshiit Driven by Desire'. Because, quite literally, this film would show you all the facets of pleasure, and all the emotions that you can trigger and experience. It wouldn't just be about making a point, but about everything associated with me.
Influencing Creativity. Providing Inspiration to Others Joining the Industry
When asked for her advice to people who are starting out in this industry, Hollyshiit says that the first thing to remember is to be very aware of who you are, what you are worth, and what you want to become. She advocates that these answers can only be given by the person themself, and that third party opinions do not matter. It is crucial to explore creativity, because the only way to know what each of us likes, is to have experienced it, since creativity really has no limits. She tells us that everyone should explore different styles and ways of doing things, in order to enjoy the process, and be very clear about setting goals in life. She is very clear about not getting overwhelmed, yet allowing yourself to be inspired by other people, as it is very important that mental health comes first. Once you have that right, the rest is going to work well, and then you can invest in your physical health, which is also very important for your work. Remember that the quality you give, is the quality you will receive too – this is a very important rule for Hollyshiit. The key here is perseverance and discipline, because we must be motivated all the time, in order to ensure that we fulfill whatever we set out to achieve.
Question: If you could collaborate with any adult creators, who would it be and why?
Hollyshiit: The first is Jennifer Aboul, she is a Venezuelan internet personality with an incredible career and great trajectory. I admire her so much, because she has always managed to maintain a full strategic creativity. She is always at the forefront, so I think that is one of the main factors why I admire her the most. The other would be Aida Cortes, a digital creator from Colombia. She has just the right approach to her career, dedicating herself to creating content. I really admire her a lot.
Tuneful Originality. Using Music to Influence the Creative Mood
Hollyshiit has a number of different playlists that she uses when getting creative, here we explore the three different genres she enjoys listening to. First up is classic rock, which she tells us provides the best rhythms to carry you, and express your body with sensuality. This works well when she is in a mischievous mood, since this type of music hooks you, and it's also the style that her followers recognize about her. It allows her to adapt to any situation, whether she is busy with her body, or chatting, either way it gives her the right vibes. Second is either jazz or blues, which can be mixed with country. This type of music gets her in a catlike mood – meow! It makes seduction completely sexy, allowing her to express everything with every movement, making the mood perfect. Her final playlist is when she needs to feel like a diva. Here she will be empowered by the queens of music, like Rihanna, Beyonce and a little bit of Madonna thrown in for good measure.
Question: If you were to give your content creation process a food analogy, what dish would it be?
Hollyshiit: If I were a plate of food, it would be a beef carpaccio, or a steak tartare. This is because they are unconventional dishes that are a bit exotic for normal palates. Only those who know how to enjoy that explosion of flavor on their palate, that freshness, that versatility, can appreciate it and can enjoy it. Likewise, I believe this is what happens with my content, that it is for people who like to go outside the box and try something different. My followers love the exotic and versatility, because it can be an appetizer, or it can be a main course. That way, my shows can be adjusted, depending on the occasion.
Inspiring Satisfaction. How Rewarding Feedback can Stimulate Pleasure
Every creator is overjoyed by the positive reactions they receive about their content, and Hollyshiit is particularly gratified by the feedback she gets from her followers. She regularly receives comments from people after a show, praising her confidence and how it leaves them feeling comfortable and unjudged. Hollyshiit has an amazing personality that brings her fans back time and time again. Her energy and vibe are amongst the things she is praised for, each allowing her to go that little bit further to provide sexual satisfaction. That is how she connects further with her audience, thus allowing her to understand what is behind each person, which in turn, is very satisfying for her.
Question: How has being an adult content creator contributed to your personal confidence and self-expression?
Hollyshiit: This industry has had a really significant and great impact on many aspects of my life. It has helped me a lot to develop confidence and self-esteem, so I feel that when I started in this industry, I came out of my shell little by little. I now understand what I should prioritize the most, and what has the most validity in my life. I've stopped giving importance to third party opinions and judgments, since they have nothing to do with who I am, and what I'm achieving. This has allowed me to process and understand what is worth doing on a physical level, because I am still living with the scars of things I have done in my life. Before, I wanted to hide and turn a blind eye, as if they didn't exist, until I properly understood. Several people began to come to my content creations, frequent followers with whom I began to generate trust with. They made me understand those things that I believed I was hiding from, were what makes us different and distinguishes us from the rest. Now I have learned to embrace these processes and see them, and not be so hard on myself. So, I think that this industry has definitely had the biggest impact on my personal life.
I hope you enjoyed this interview, and thank you for your kind support.
Join their community and gain Exclusive VIP Content. Explore Now
.
CONNECT WITH HOLLYSHIIT
FAN5 Profile: @Hollyshiit
CAM4 Profile: @Hollyshiit
Twitter: @holly_nina
Instagram: @_hollynina_