CNN, Rolling Stone, and now CAM4 is featuring Alana Evans!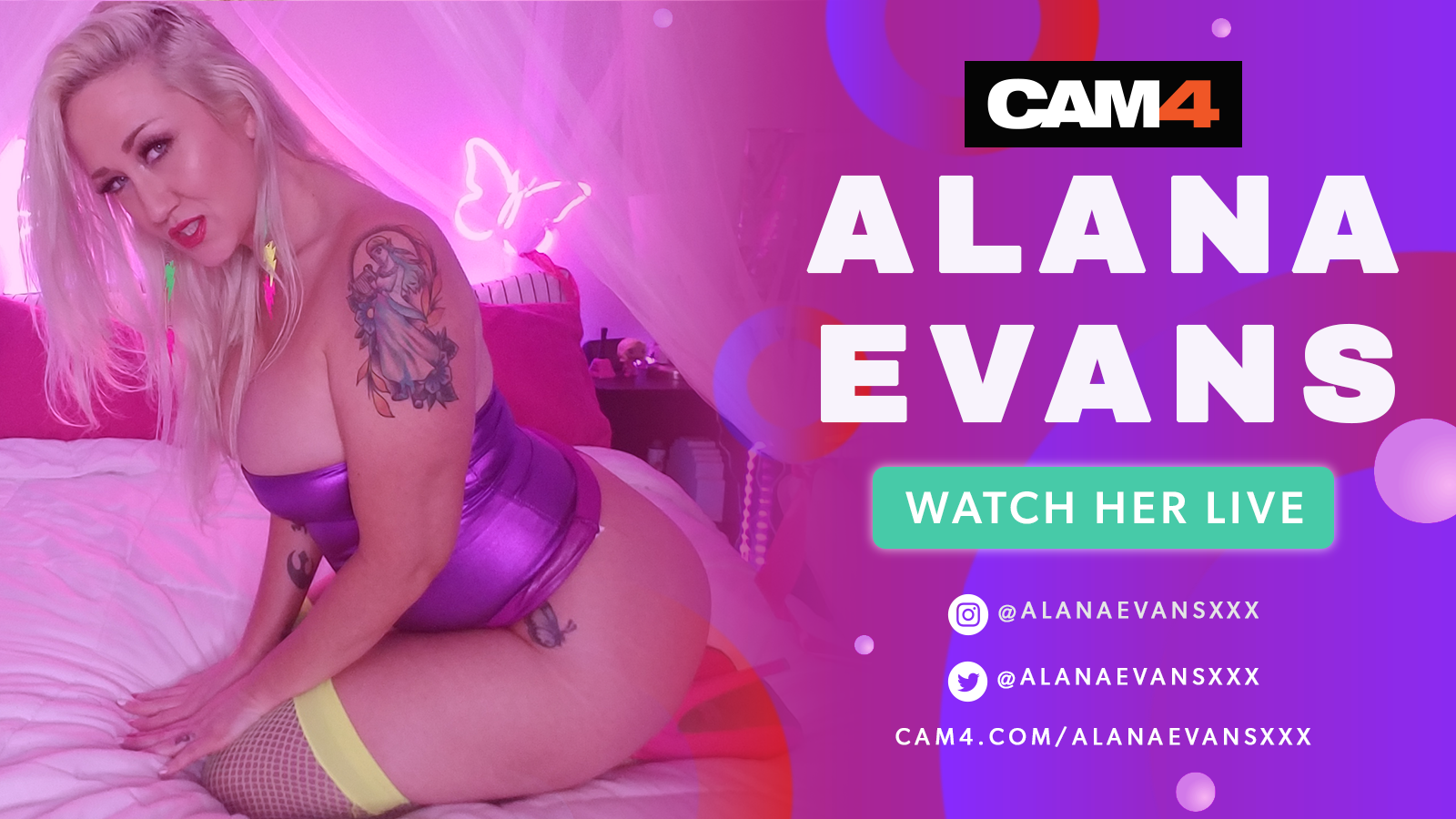 Premiering on August 16th at 4pm EST/ 1pm PST, CAM4's star-studded line-up of TOP industry influencers will be growing with the legendary Adult Performance Artists Guild (APAG) President, Alana Evens. Since the start of her career (1998), Alana has gone on to film over 300 productions including 1000+ scenes, becoming one of the leading stars in the Adult Entertainment industry. With recent appearances in mainstream media via Rolling Stone Magazine and CNN, Alana is a global and recognizable force.

Combining her many talents: producing, acting, gaming, music, and writing, she has gone on to star in some of the biggest titles in porn, including "Not The Brady's" as the sexed up matriarch herself, Mrs. Brady! And LIZA: Warden From Hell. For the first time appearing LIVE exclusively on CAM4.com, viewers can connect and get aroused twice a week: Tuesday's and Sunday's at 4pm ET / 1pm PT.
This blue-eyed Bombsell, Gamer, and Milf Next-Door is known for her beauty, luscious booty, and as a woman who continues to make impactful moves on and off of the camera. Talk with her, interact with her, and rub with her. It's not every day you get this type of sensual MILF at your fingertips!

Watch and connect with this 3x Hall of Famer recipient HERE.



CAM4 sits down with Alana Evans for an in-dept and exclusive interview discussing things you have all been asking for.
Can you tell us about the Adult Performance Artists Guild. What should people know about this and why is this so important to you.
The Adult Performance Artists Guild (APAG) is a performer union in the adult industry. We work to create bargaining relationships with the companies adult creators work with to set fair working practices, we offer outreach programs, and other life changing services for our community. We re-organized in 2021 and have a membership of diverse creators.


You have done over 300+ films and over 1,000 scenes. Can you tell us about this incredible achievement and what it took to produce this impressive roster of films?
When I began adult work in 1998, mainstream porn was the only true avenue to build a brand. I had so much fun filming and working in front of the camera, I knew the adult industry would be my home. I've been lucky enough to star in some big titles, such as Not the Bradys XXX, as Mrs. B herself. Acting has always been a driving force for me.
What are you most known for with your fans and the content you create, how would you best describe it?
I am most known for my reality-based content, traveling the world and having fun. These days my fans think of me as the gamer MILF next door. My content is wholesome porn! I love giving my fans the chance to get to know the real me through my art.


Having been in the industry for 20 years, how has the industry evolved and how have you evolved through those years.
The industry has changed so much since the 90's. Social media was not a thing so it took nearly a year before your work would become known. Now, a scene can hit the market the day after it's filmed! This means performers and fans can build their relationships from the very beginning of a starlet's career. I think it's incredible.
Can you please tell us why it was important for you to partner with CAM4 and become part of this community? What do you like most about CAM4 and the viewers on this platform?
CAM4 IS A COMMUNITY! I love how CAM4 works with its creators to build a home with a sense of respect for our existence. CAM4 is always working to support their models through marketing and events. I love the way you put your creators first!


People have a lot of assumptions about camming, what's one myth that you've found to be totally wrong?
People assume camming is easy! They think it's not big deal to flip on a camera and "just sit there.' The effort, the knowledge of tech that is required to create a successful stream, and the energy that is required to peacefully connect with your fans while LIVE is unlike any other job in the world. Others think it's easy to transition from porn into camming but it's a little less simple than that. Being able to create a unique show can be new territory, but it's helpful when learning more about yourself as a performer.


What do you feel is sexiest part of your body?
I think my sexiest feature is my eyes! I love being able to connect with my viewers with my crystal blue eyes and my big smile. My fans say the same. The genuine passion I share through my eyes is way better than my amazing rack and booty! haha


You seem very positive and uplifting, always looking to help other performers. Can you please explain why building up this community and helping those within the community is important to you?

I believe you must give to receive. If I want to be cared for and blessed, it's important I do that for those around me. I'm the type of person who will smile and say hello to someone that others may treat as invisible. Kindness is free and easy to share. Our community is constantly under attack from the outside world and it can become heavy on your shoulders. If we don't help each other, no one will. I want others to enjoy their time in this industry and if I can help make that happen, I'm happy to.

Tell us how you helped Hustler get their Instagram Account back after they were suspended by the platform. This is a great example of helping the community!
We have worked to help many performers and companies regain access to their Instagram accounts when they've been wrongfully removed. We work quickly with our lawyer, James Felton, to mediate these concerns directly with IG. After we negotiated with Instagram in 2019 to give us the ability to have accounts examined after deletion, we have been thankful to see hundreds reopened. While it is a continued struggle, and litigation pending, we are excited about the future.
What are some of your proudest moments or goals you have reached within the industry?
One of my proudest moments was receiving my XBIZ RISE award for Advocacy. To be honored by XBIZ in that way brought tears and made me feel recognized in a way I never thought possible. While I am a three-time hall of fame recipient, this award showed how my work has evolved.


What advice can you give to other performers trying to make a name for themselves in the industry. How do you control your brand and the content you create?

Follow your heart. I always tell performers to work in a space that brings them comfort and joy. If something doesn't feel right or isn't working for you, it's ok to take a break and re-evaluate. At the end of the day, what matters the most is your mental health. You can build your brand by staying true to yourself. Follow goals that give you peace and stability.


What projects do you currently have in development that viewers and fans should be looking out for?

I am fulfilling my dream as a mainstream actress right now! I have been cast as Liza, the lead character in LIZA Warden from Hell. This new series is based on a 70's iconic exploitation series of movies with ILSA. The first film is set to be released this fall via streaming services, DVD and BLURAY, and even some vintage VHS tapes. The R rated version will be released after at major stores like Walmart!


Can you tell us about some of your top mainstream appearances (CNN, Rolling Stone, etc)? What should fans know about these opportunities?

I am often the voice for performers in the adult industry due to my extensive career in the business. I have appeared on every major news network, and most major news printed publications. This fall, I will be featured on 20/20, as well as a major documentary discussing a highly publicized legal case in the industry. During my time on CNN, I was known as "Stormy Daniel's friend" due to my involvement in the Trump and Stormy saga.


What are some things viewers, fans, and other stars should know about you? Can you give us some exclusives?

Fans should know I am the real deal. Having spent most of my life as a worker in the adult industry, I am a die-hard lover of this business. I will always work to protect the right to access our content and our freedom of speech. But they should also know I'm a total sweetheart! My fans become my online friends and I wouldn't have it any other way!


What type of phrases best describe you for new viewers and fans who may not have discovered you yet?

MILF, naughty chef, gamer, busty, blond, cosplay, co-ed, cougar, reality, bisexual, babe, hardcore, pornstar


How can fans connect with you through CAM4 and Social Media?
www.Instagram.com/alanaevansxxx