Win an Early Xmas Gift from Emmy___!
Are you dreading the cold weather that comes with the holiday season? Don't you wish you could receive that one perfect gift that could warm you right up? Well, Emmy___ is here, and she's about to make your dreams of a hot and wet paradise come true ;)
Over the holidays, any fan who gifts Emmy 50 tokens will be entered for a private group show (password required).
Anyone who gifts 150 tokens to Emmy will get a 30 minute Skype show. The secret Santa who gifts Emmy with the most gifts will get a free 60 minute Skype show!!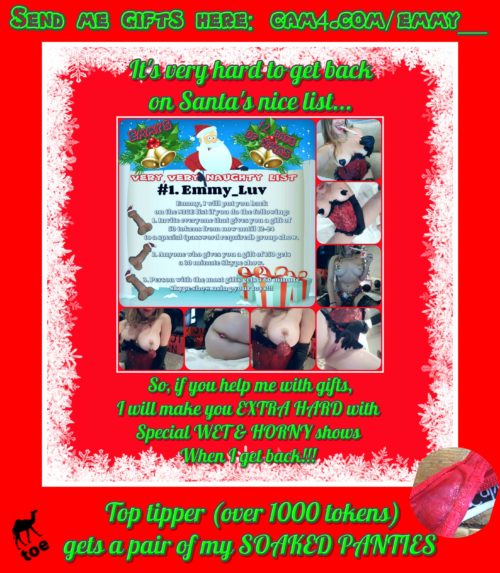 BUT WAIT!
The most generous fan who gifts 1,000 tokens or more will receive a pair of Emmy's SOAKED PANTIES! (sealed and shipped fresh)
You ready to make this holiday season a hot one? Check out Emmy___'s CAM4 page and enter to win!
Get her a gift here!
Follow Emmy on Twitter! @Emmy__Luv
Make sure to check the CAM4 Blog for updates on Holiday contests and shows!