Eyes, Breasts, and a Hint of Rebellion: Emma Rose, the Enchanting Hedonism Traveler
Introducing Emma Rose, one of the lucky winners of the Naked and Uncut Hedonism trip to Jamaica! With a deep-rooted admiration for the women of Naked News, Emma ventured into the industry by creating captivating content on Tempted.com. Eventually, her boldness led her to audition for the network. Prior to this exciting endeavor, Emma had a brief stint as an event planner and host in sex clubs.
Emma's intriguing persona filled with an enticing blend of playful, flirtatious, and sexy content is why so many viewers love watching her. She embraces her exhibitionist nature an derives immense pleasure from showcasing her sexuality and tantalizing moments. As we continue to showcase the many winners of the Naked & Uncut Hedonism contest, we couldn't be more excited to have Emma Rose on this exhilarating journey where inhibitions are shed, pleasure reigns supreme, and boundaries are playfully tested.

Watch her on Naked News of a Live Q&A this week on Nakednewslive.com

Read her featured interview below:
1. How did you get into the industry?
I have been watching the women on Naked News for years and always wanted to be a part of the magic, so I started creating content on Tempted and finally got brave enough to audition for the network, though I've worked in sex clubs as an event planner and host for a short time before this.

2. What made you choose your travel guest / How did you meet?
I met August on a shoot in Jamaica and we really hit it off – I had wanted to spend more time getting to know her, so when the contest came up, I thought it was the perfect chance to spend a sexy week together!
3. What would you consider as your best asset / part of your body?
When considering my best assets, my eyes are definitely at the top of the list, followed by my breasts and tummy.

4. What would you like people to know about you that would shock them?
Something that might shock people is that I hold a certification as a forklift operator and I am skilled in auxiliary percussion as well.

5. What can we expect from your LIVE shows while at Hedonism?
During my live shows at Hedonism, you can expect a lot of fun, flirty, and sexy content, along with the occasional dad joke or two!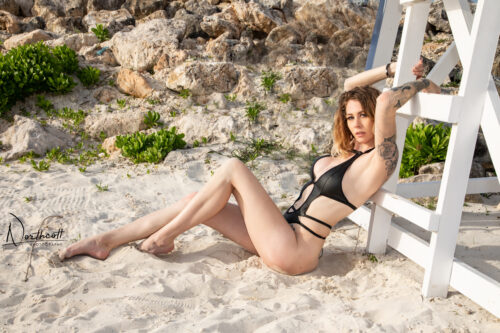 6. What is on your sexual bucket list and what do you hope to cross off while in Jamaica?
On my sexual bucket list, my ultimate desire is to be completely naked throughout the entire week in Jamaica!

7. Where's the wildest place you've ever had sex / craziest sexual encounter?
The wildest place I've ever had sex or had a crazy sexual encounter was in one of the back rooms within a church.

8. Hedonism II caters to both "Prude" and "Nude" guests, which one are you?
At Hedonism II, I consider myself a Nude Prude. I love being naked and enjoy being watched and admired, but I am highly selective about who can join in on the fun.

9. Are you more of a Voyeur or Exhibitionist?
I am definitely more of an exhibitionist. I thoroughly enjoy putting on a show and expressing my sexuality.

10. You only have 3 things you can pack and clothes are not an option …what are you bringing?
If I can only pack three things, excluding clothes, I would bring baby oil, handcuffs, and a safe word. 😉
Follow our Naked & Uncut Hedonism page for all trip information and live streams: NakedandUncut.com
Connect With Emma Rose:
CAM4 Profile: @xoemmarose
Tempted Profile: @emmarose
Naked News: @emmaRose
Twitter: @xo_emma_Rose
Instagram: @official_emma.rose
Keywords
Naked News, CAM4, Tempted, IOS Connections, It's Only Sex, IOS Merch, Content Creators Trips, Cam Models, Adult Industry, Fans, Contest, Jamaica